The Top 6 Parks in Kuala Lumpur
What makes a good park? Space, green, shade, facilities, cleanliness, safety, and that something special? Let's explore 6 of KL's top city parks, each with its own je ne sais quoi, with real reviews from those who have visited these parks.
| | |
| --- | --- |
| Review | Tip |
| 'Must' | Scores |
| Bonus | Specials |
♦ KLCC PARK
Annexed to KL's Petronas Towers, this 50 hectares of urban sanctuary should be visited as a pit-stop from retail therapy (being immediately outside Suria KL shopping haven), that perfect iconic (Twin Towers) backdrop to include in your selfies and we-fies and for a free serenade by the KL Lake Symphony performed by musical fountains. KLCC park, known for its cleanliness and high security, houses 1900 trees for migratory birds, a sculpture-adorned lake complemented with meandering waterways, 2 acres' space of playground, a large paddling pool, shelters, seats, public toilets, free drinking fountains and all.

"The grounds are immaculately clean, and overall a good place to sit in the shade and watch the world go by." Tripadvisor

"Wonderful experience, dancing fountains set to colorful lights and musical symphonies… a little similar to the Lights and Sounds in Marina Bay, Singapore, except Singapore's is set on the bay with more visuals and sounds going on while this is from a manmade lake in a park overlooking the Petronas Towers in Kuala Lumpur... good food for the soul." Tripadvisor

"The only park which has water coolers around the park... No worries of being thirsty here." Running Tortoise

"Although it is tempting, do not stretch out on the lawn or you attract attention, you can be sit on the grass but you can not lie down :-)." Minube

Space 3/5 Cleanliness 5/5 Convenience 5/5

If you get hungry wandering round the park, go for these food deals, mere walking distance away, next door at Suria mall.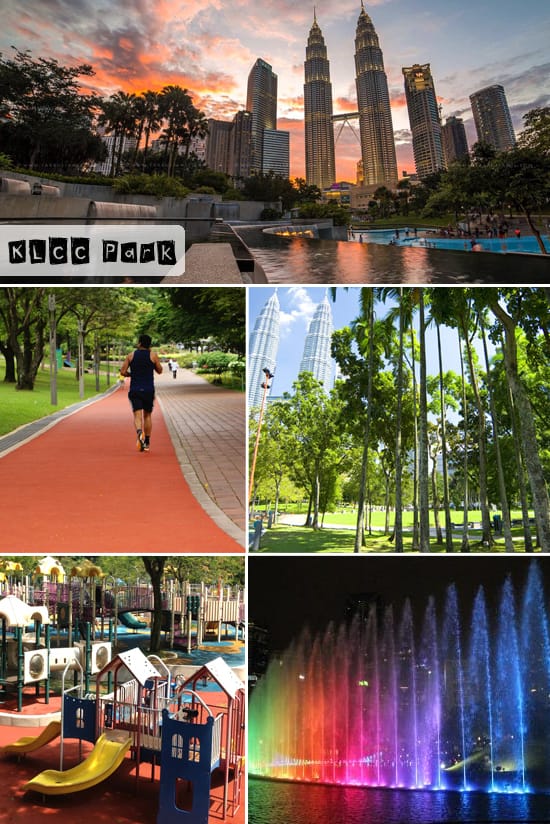 ♦ THE LAKE GARDENS
The Lake Gardens comprises of 68 hectares of rolling manicured greens which cover a variety of specialty gardens. When you amble the jogging tracks and playground, circle the lake shielded by shady spots and covert loving-tendered plants, don't be surprised to find yourself suddenly realising that you right in the midst of the city's main hustle-and-bustle, and yet, will feel none of it. Bring a picnic to enjoy this surreal cocoon in an oasis of tranquility, despite views of nearby towering buildings and speeding cars. Surrounding attractions include the popular KL Butterfly Park and KL Bird Park, the world's largest walk-in aviary.

"Beautifully laid out gardens, well labelled plants, plenty of good paths for walking around. If you've got children who like climbing things, they've got the best play park I've seen in a long time, worth a visit for that alone." Tripadvisor

Visit all the gardens! There is a variety of gardens from one that houses 800 species of orchids, others just for hibiscus, herbs, plumeria trees, rare fruit trees… find out more from klbotanicalgarden.

"There's free wifi in spots too! Great for some exercise with its rolling terrain." Foursquare

"Keep in mind that this place is big (bigger than you'd expect anyway), so if you're a first-timer, be careful about getting lost. It won't let you down though with its vibrant mix of gardens, hills and stairs." PurelyB

Space 4/5 Cleanliness 4/5 Convenience 3/5

The most beautiful pictures are taken from plants and flowers. So frame up your prized captures with PhotoBook, 55% off canvas and metal prints!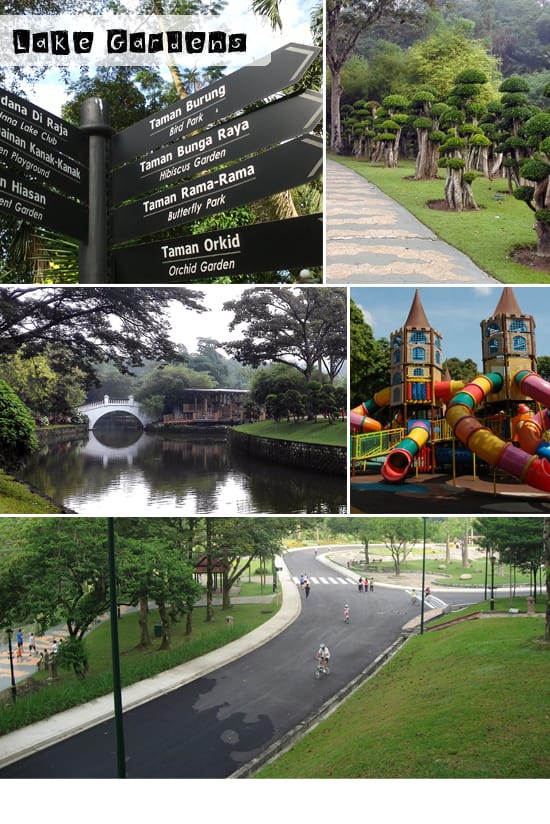 ♦ TITIWANGSA PARK
Located at the fringe of KL is a 95-hectare park, lesser known as a tourists' destination, but popular with the locals for inner-city fun with nature. Here is where you can hire a tandem bike, try a hoverboard or a Gotway (the new electric unicycle) and play remote control cars in a proper driver's platform. Jog, top up your weekly exercise quota at the exercise stations, play tennis, go biking, hire equipment for water recreations and even chill over a spot of fishing. The park to get your fill of mini adventures! Food is readily available from the many food trucks dotted around the site.

"What a surprise!!!! its alive at nite.....there is buskers singing, there are roller bladers/skaters, hoverboards for my teen daughter, cycles, tricycles for my two boys.....apart of it there is soap balloons, light sabres....etc For Only RM2......we spent the night playing non stop till we drop." Tripadvisor

"This location surprises us with some great Pokemons that appeared." Pokemongo

"There is a place where you can pick games and they provide the canoes or water tools… make sure to grab a bike at first! … go early in the morning to have more fun while the games options are there… the games and renting the bike are not expensive at all." Yelp

"You can rent a bike for as cheap as RM10 for an hour. Choose the ones with carrier, so, you can share the rides with your little ones. But, be careful of those stupid car drivers seeking for parking." Foursquare

Space 4/5 Cleanliness 3/5 Convenience 3/5

Don't be put off by the limited parking! Get RM50 off an Uber Ride or RM6 off x10 GrabCar rides for your entire gang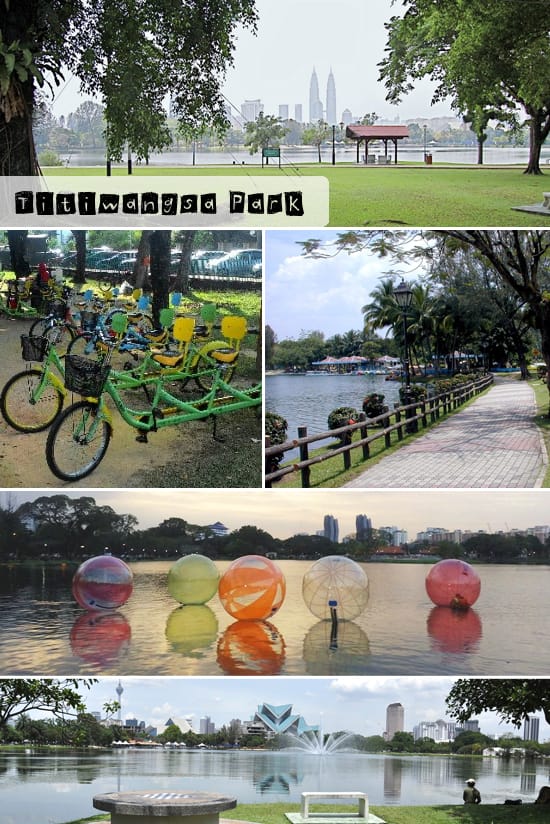 ♦ KEPONG METROPOLITAN PARK
Kepong Park is known to provide the perfect setting to fly kites. All trees and structures in this park have been cleared to give the kites a take-off height of 100-metres. There is so much to be said the feeling of serenity from such simple pleasure of watching kites play with the wind. This 95 hectares park includes a 57 hectares lake, an observation tower, reflexology facilities, two playgrounds, jogging and cycling tracks. Go lounge in that wide space with a picnic and enjoy the constant holiday feel the park exudes.

"There is a huge space of lawn for people to fly kites. It is fantastic, just lie down and enjoy a blue sky with beautiful kites. Lovely! Then, we walked around the park. There is a lake and there is a 40-minute boat service around the lake (costs RM50 for 40 minutes and 4 pax)." Yelp

"The best time to cycle would be in the morning and or late evening. The land here is generally flat with wide open spaces, perfect for cyclists who are looking for recreation rather than a challenge." Rays Travels

"The wind is great here, so the weather is also picnic weather for those who enjoy such things (we do). This is the place's biggest selling point as we can hardly get such weather, everywhere else is just too humid." Yelp

"Wanna jog on weekends, do come early, as early as 7am. The carpark always full." City Maps

Space 4/5 Cleanliness 3/5 Convenience 3/5

Got the kite-flying bug? You can visit the park regularly at a budget when you CatchThatBus!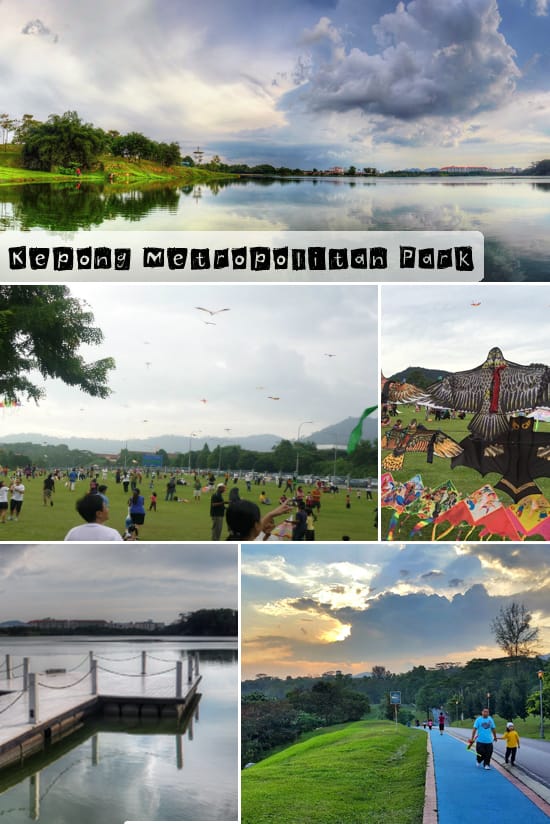 ♦ CENTRAL PARK, DESA PARK CITY
Central Park is placed, by Foursquare, within the top ten locations in KL with the freshest air. A part of the award-winning township of Desa Park City, this ecologically-green and nature-inspired landscaped park with lake, is friendly to both humans and dogs. Well-kept and guarded 24-hours, the relaxing environment houses a 9-foot wide path jogging track, a playground, cycling path, convenient amenities and lots of doggy running space, with free poop bags on site. Some of the shops and restaurants, adjacent at the Waterfront , are even pet-friendly. Should 'furkids' be leashed at his park? Check out the (funny) discourse on the current hot park conversation.

"Desa Park City is the largest and most well-planned dog friendly park in Malaysia." Propsocial

"Park near basketball court if you wanna jog. Also, don't worry even if night falls. Although it could be brighter, guards still patrol the park." Foursquare

"Overall, Desa Park is a nice place to bring your fur kid out for a stroll. The area is big enough even for big breeds." Yelp

"The only downside is the pricey parking rate during weekends." Yelp

Space 4/5 Cleanliness 5/5 Convenience 3/5

Petsmore is running a YES! I'M Beautiful Photo Contest! With RM12K worth of prizes, this is the park to come to show off your bootiful pet!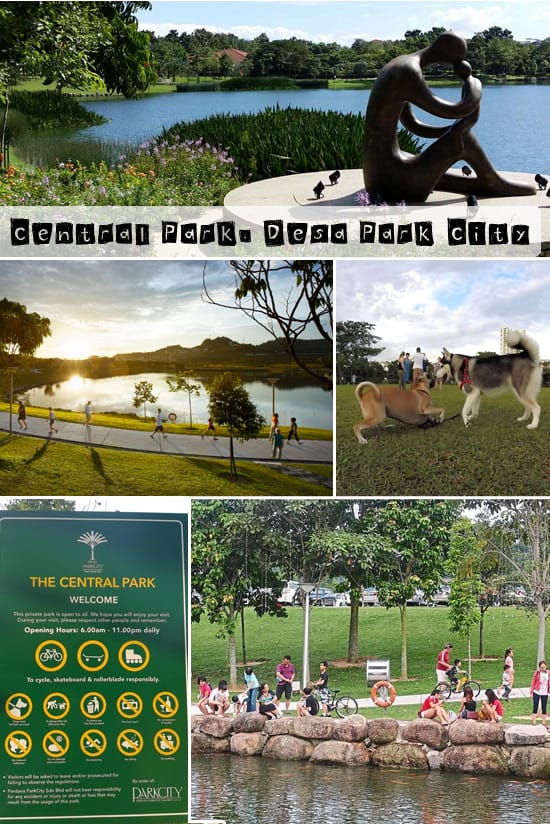 ♦ BUKIT KIARA PARK
Tucked behind the confines of residential Mont Kiara, formerly a rubber plantation, is a park ideal for walkers, runners, hikers and mountain bikers. Besides a main entrance with outside parking lots, it can also be accessed via an Equestrian park, a golf club and even in the midst of the highway. This 5-kilometre forestry offers criss-cross trails, tarred roads, off-roads, steep uphill tracks and windy downhill circuits good for all those looking for a variety of challenges. You may even chance upon horses and monkeys (some aggressive) in the 3+ hours to explore the entire area. Unfortunately, news has it that the area will be subjected to construction, so do visit it before this sanctum becomes history.

"Zumba, taichi, hiking, jogging, etc. All can be seen here on Sunday morning." Foursquare

"You can walk up the hills via a 5 km circuit on metalled road or deviate n take a few jungle paths to near the top. Best go early morning or evening to avoid the scorching sun and get a good walkout of this." Tripadvisor

"Not so much one single trail as a trail network criss-crossing Bukit Kiara. This is a veritable mountain biking (and running) oasis..." mtbr

"These trails are popular MTB trails so I'm gathering that the weekends may not be a good time to hike." Figure8

Space 4/5 Cleanliness 3/5 Convenience 3/5

Have you got your hiking kit ready? Nike, Adidas, Sports Direct… all have sports deals.