Smile Makers Personal Massagers Empowering Women in Malaysia
Did you know that 67% of Malaysian women believe in the importance of sexual satisfaction? However, in our neighboring country, Singapore, only 47% feel the same way. This comes as a surprise since we Malaysians are known to be more conservative as compared to our Singaporean counterparts. With these numbers clearly showing where we Malaysian women stand when it comes to sexual wellbeing and health, I am sure most of us are open to discovering new ways to enhance our sex lives. Introducing *cue drumroll* Smile Makers! They believe that when you are smiling on the inside, you smile on the outside. Who? What? How? Read on to find out more.
Smile Makers launched its personal massagers in Europe back in 2013 and they have been helping women all across the globe find their inner smile. How? Smile Makers produce personal massagers in a static-free environment alongside a couple of the world's leading electronics brands. Their products are also completely waterproof, phthalate-free, and made with super-smooth, 100% body-safe, FDA-approved silicone. Now, do you trust me when I say that Smile Makers is definitely a brand that women will be able to trust in and vouch for? Besides being products of quality, their creativity is to be applauded as well: The Fireman, The Frenchman, The Tennis Coach, The Millionaire – thousands of women's fantasies done right. Heck, The Fireman even beat the iPhone at the D&AD International Awards in London! All this reading has probably gotten you all excited so let's reveal these four traditionally lusted-after characters for your viewing pleasure.
The Fireman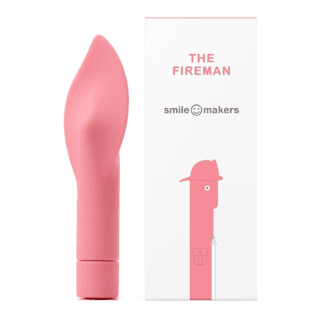 The Fireman is a clitoral vibrator featuring an intense nose, exhilarating tip, and 'soft flames' for that extra sensation your body craves for (for external use only).
The Frenchman

The Frenchman is inspired by a French kiss – super flexible and soft (for external use only).
The Tennis Coach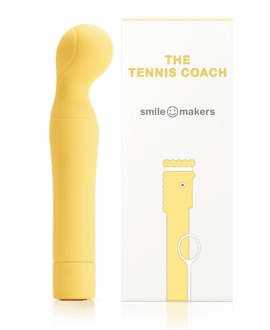 The Tennis Coach is a gentle G-Spot vibrator for vibrator-curious women (for both internal and external use).
The Millionaire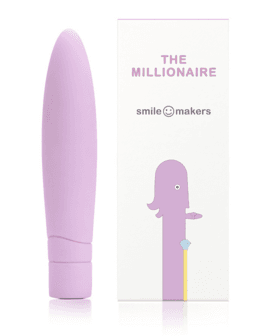 The Millionaire is a classic bullet vibrator with perfectly crafted form (for both internal and external use).
Expect only the best
If you are planning to purchase a personal massager for yourself, Smile Makers collection would be the best choice due to sufficient reasons. As mentioned before, these vibrators are completely phthalates-free, which is a very, very good thing. Simple reason being, phthalates are extremely harmful to our health bringing about health disorders such as asthma, breast cancer, type II diabetes, and male fertility issues to name a few. Next, the silicone used is the best available in the market. It is also approved by the US Food and Drug Administration so feel free to put your doubts aside! Did I also mention that these vibrators are probably the quietest massagers in the world? At less than 40dB, I would believe so. Lastly (and probably the best part of it all), all Smile Makers vibrators are 100% waterproof so feel free to enjoy them in the bath or shower any time.
Besides personal massagers, Smile Makers also has a range of premium lubricants which are formulated with only the purest ingredients otherwise only found in luxury skincare brands such as natural plant extracts. Their lubricants are especially gentle even on the most sensitive skin and are completely fragrance-free and paraben-free. Using only the highest grade of ingredients to formulate their lubricant, it is no surprise that their lubricants are made of 99.5% purity and are designed to be long-lasting. No worries about your lubricant drying up then! At the end of it all, it'll leave you feeling silky smooth, with the feeling of having used a great skincare product.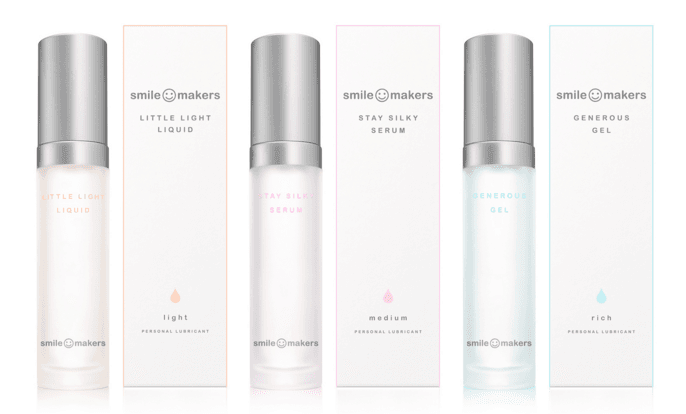 From left: Little Light Liquid, Stay Silky Serum, and Generous Gel
The difference between the three is the density of the lubricant. By the names given to the products you can already tell that the Little Light Liquid is the lightest, followed by Stay Silky Serum which is of medium density and Generous Gel which provides just the right amount of cushioning with its rich density. Pair your fantasy man with any of these little lubes and you'll be sure to have a great time!
Smile Makers is on a mission
Smile Makers is probably the first of its kind to break the norm and make these pleasurable massagers available for purchase at drugstores. They want to tell the world (women, in particular) that being in charge of your sexual wellbeing is not wrong and is in fact, very important for one's physical and mental wellbeing (a boost in confidence, for one). It's a whole different approach to promoting vibrators and I believe this is a good way to gradually get rid of social stigma towards personal massagers, which many mistakenly label as sex toys. Well, you definitely won't come across these "hunks" in sex toy stores for sure.
Excited, you girls must be. Now, where in the world would you be able to get your hands on these bad boys? Smile Makers' full range of personal massagers and lubricants are being sold exclusively at Lazada for RM129 and RM59 respectively, so if you're still feeling pretty shy about purchasing one in public, you can always place an order at Lazada without having to reveal your identity. To make things even better, we also have an exclusive coupon code for you to enjoy 10% OFF any Smile Makers product valid on both desktop and mobile app (iOS & Android). So wait no more and start taking charge of your sexual wellbeing now, ladies!