ShopCoupons X Rakuten Malaysia Blogger Contest!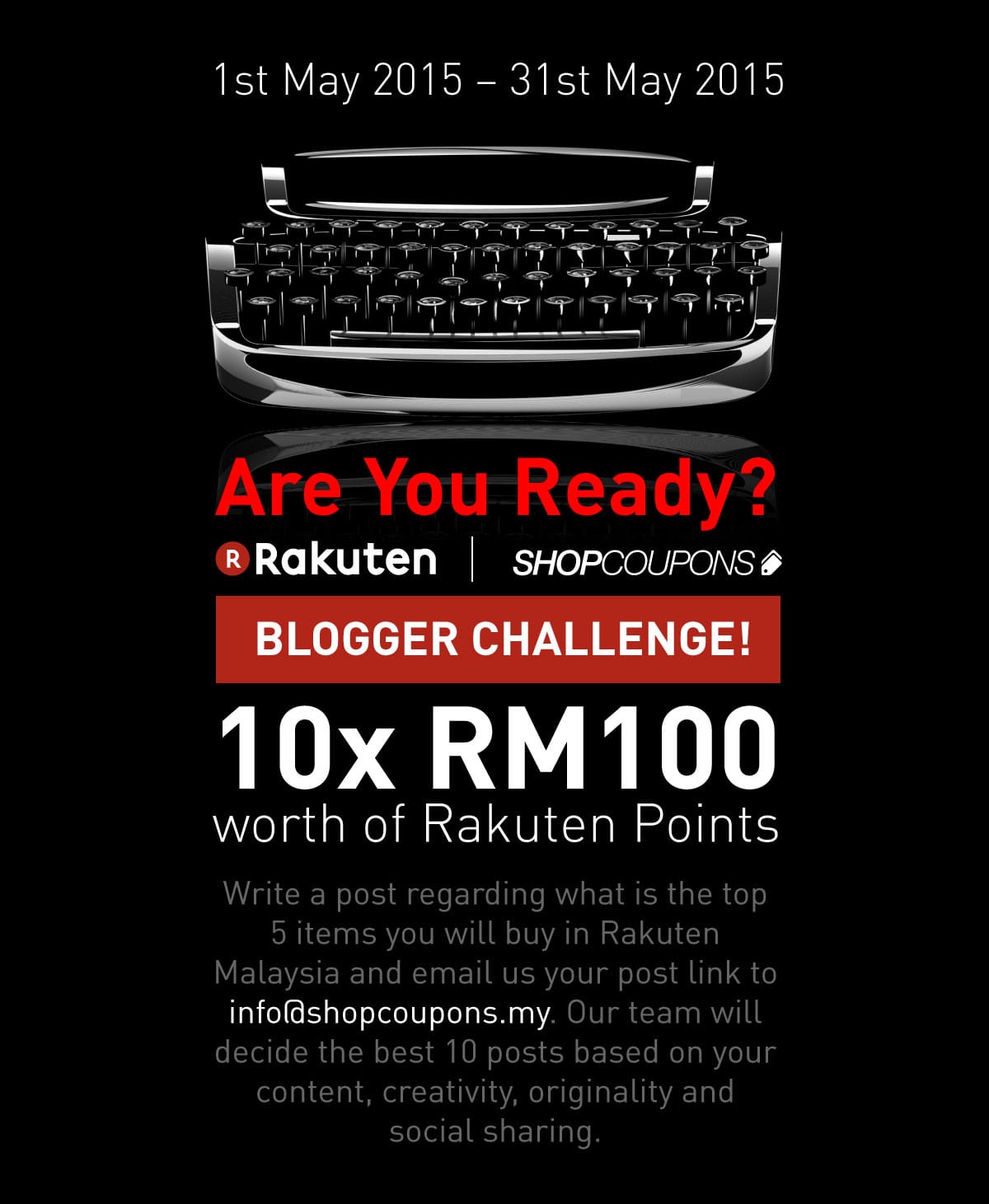 Hey Guys, our blogger contest is back! This time in collaboration with Rakuten Malaysia, we are giving away 10 X RM100 worth of Rakuten Super Points for 10 different winners! Means more winners! For those who are not familiar with the points, you can use these points to purchase your items in Rakuten Malaysia. 1 point = RM1. Once the winner is decided, Rakuten Malaysia will manually award points to the recipient account.
HOW TO ENTER
Write a post regarding the top 5 items you will purchase at Rakuten Malaysia and email us your post link to

[email protected]

(If there is an issue sending in, send a message to our facebook page)
The contest duration is from 1st of May till 31st of May
Content language: English, Malay or Chinese
Minimum of 500 words
We will judge based on :
o Content
Is your content internet friendly in terms of how you structure your post so that people will read?
o Creativity
Whether your content is interesting? Any images or video? Story telling? We do not limit the title of the post. It could be "Things I always wanted in Rakuten Malaysia or even the story of how I started to shop at Rakuten Malaysia" We will accept any creativity you have in mind!
o Originality
Content is fully unique and is done by you! No copy cat!
o Social sharing
We will increase the chance for those who share their own post on their Facebook and Twitter! (p.s we do check!) Remember to @shopcoupons!
There is no weight in the judging factors, we will judge based on the overall performance!
Read the full terms & condition here!
Untuk Bahasa Melayu Baca sini!
LET THE GAME BEGIN!