Johor Food Trail: What's Good in Kluang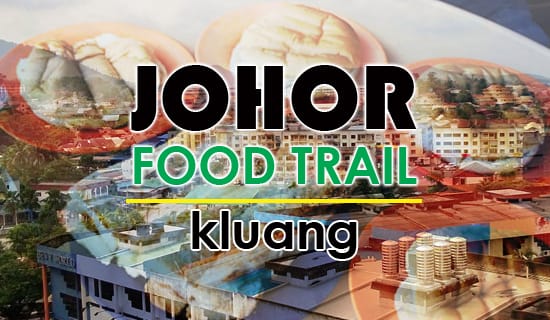 Located at 263 kilometers away from Kuala Lumpur and 110 kilometers north from Johor Bahru, Kluang isn't the kind of place that most people will instantly project the destination as an "ideal vacation spot". However, beyond this little town lies a hidden gem of food paradise worth exploring for. In this latest part of "Johor Food Trail", let's see what Kluang has to offer below.
1. Kluang Rail Coffee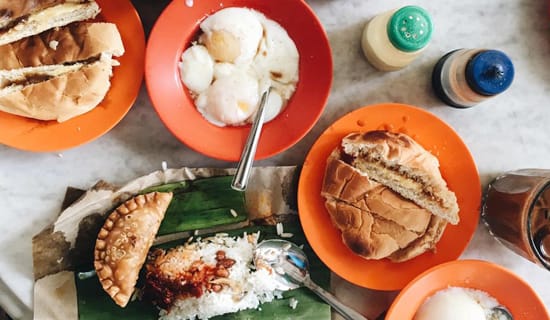 Many city dwellers who live in Kuala Lumpur would have heard the local eatery outlets known as Kluang Station. After all, they can be easily found in some of the city's major shopping malls such as 1Utama and Berjaya Times Square. But deep down, if you are looking for the real deal, it has to be the authentic coffee shop located in Kluang itself. Otherwise known as Kluang Rail Coffee, this famous coffee shop is named as such because it is actually situated within the major railway station in Kluang. First established in 1938, many locals and visitors frequented the coffee shop because of its signature local dishes.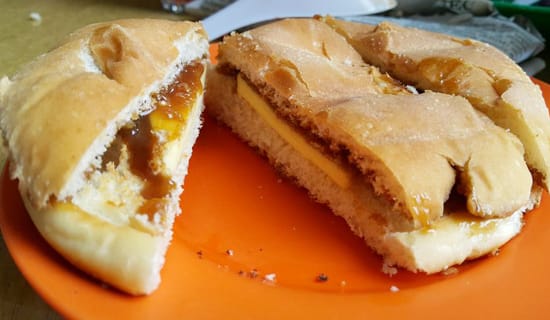 Let's begin with Kluang Rail Coffee's kaya and butter toast. Now, unlike the typical toast varieties found in most coffee shops and cafes, they use the good old-fashioned charcoal grilling method. You can opt for bread or bun where they are lightly toasted and spread with homemade kaya and a generous slab of butter.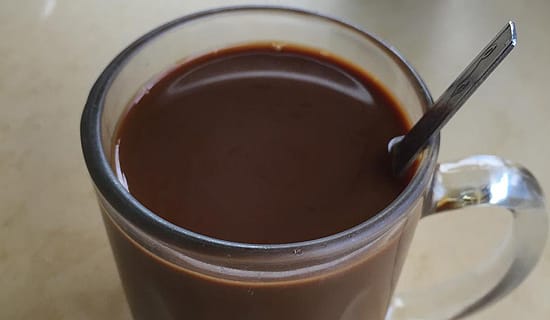 And while you're at it, don't forget to pair the delectable kaya and butter toast with their signature hot coffee drink. Whether you go for the black coffee or the milky coffee varieties, they use 100% locally-grown coffee ground to roast and brew their aromatic java.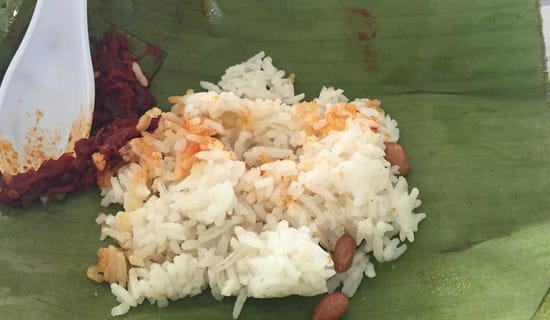 Finally, if you have a room for more, their Nasi Lemak Bungkus is another must-try dishes in Kluang Rail Coffee. Yes, it may look like a simple local dish but there's no denying that the mix of santan (coconut milk)-infused rice and sweet yet spicy sambal paste packs a robust punch.
Apart from the Kluang Rail Coffee in the railway station itself, you can also locate their other Kluang outlets in Jalan Tasik 1 and Jalan Duku.
Address: Stesen Keretapi, 86000 Kluang, Johor
Facebook Address: https://www.facebook.com/OriginalKluangRailCoffee
Operation Hours: Mon-Wed & Fri-Sun 7am - 12.30pm & 2.30pm - 6pm
Price Range: $ out of $ $ $ $ $
* Halal
2. Fendy's Burger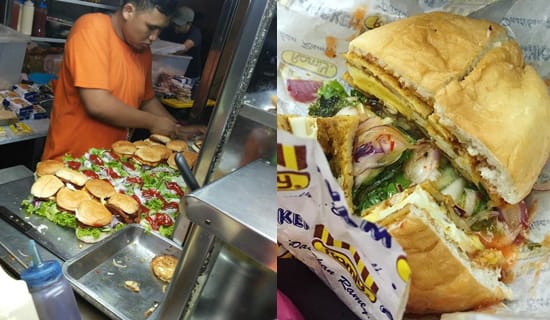 Just so you know the name of the place above is not a typo. No, it's not Wendy's but rather a local burger stall known as Fendy's Burger. Now, you might be wondering: what's the big deal about this average-looking burger stall? Well, as average as it looks, Fendy's Burger is a hit among the locals. In fact, this stall is often hailed for serving the best burger in town. From the chicken burger to their signature "Burger Ayam Double Mix" special, their burgers are both juicy and flavourful. Not to mention they add lots of spices to make their burgers all the more appetising worth craving for.
Address: 33, Jalan Tembikai, 86000 Kluang, Johor
Operation Hours: Daily 5pm - 4am
Price Range: $ out of $ $ $ $ $
* Halal
3. Gerai Makan Botak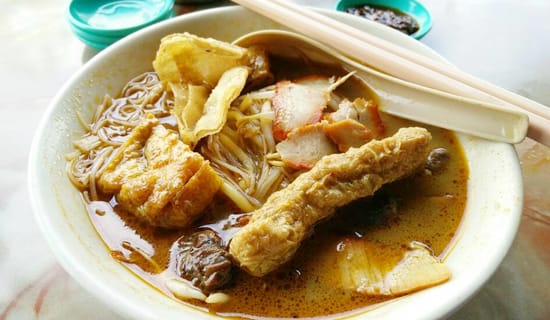 Believe it or not, Gerai Makan Botak (no, this is not a joke. That is really the name of his shop!) has been around for more than half a century. Today, the shop is now operated in two separate Kluang locations by the owner's son (Jalan Paya 2, Kampung Paya) and daughter (Jalan Panggung, Kampung Masjid Lama near Mengkibol River Hawker Centre).
For decades, many locals are flocking to this shop for its signature curry mee. The secret of the shop's enduring success, of course, lies on their family recipe used to make the delicious curry broth itself. The broth is full of spices and best of all, it is not overly spicy to the point you need a glass of drink to wash it down. Not to mention the curry mee is fulfiling enough with enough morsels such as char siew (BBQ pork), cockles, fish cake and fried tofu to satisfy most average eaters.
Address:
a) Jalan Paya 2, Kampung Paya, 86000 Kluang, Johor
b) Jalan Panggung, Kampung Masjid Lama, 86000 Kluang, Johor
Operation Hours: Wed-Sun 7am - 2pm
Price Range: $ out of $ $ $ $ $
* Non-halal
4. Yean Kee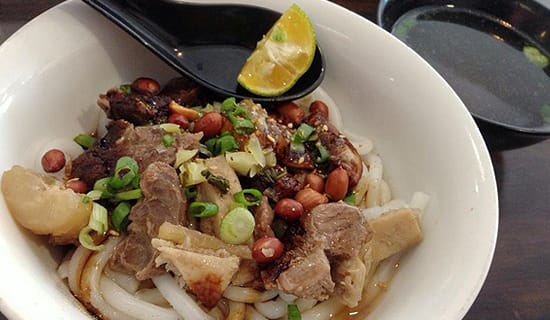 Looking to satisfy your tummy with a nice bowl of beef noodles? Well, look no further than the decades-old Yean Kee which started from the humble beginning of selling beef noodles in a simple stall in the 1930s to a more established brick-and-mortar outlet during the third generation of ever-evolving family business. Yean Kee's signature beef noodles are best known for its freshly-homemade rice noodles. The beef cuts, in the meantime, is both juicy and tender enough to the bite. Each bowl is topped with a handful of groundnuts and a lime wedge to give the overall beef noodles a uniquely robust flavour. Apart from their dry and soup beef noodle variety, Yean Kee also sells beef ball noodles and beef rendang.
Address: 4, Jalan Murni 1, Taman Murni, 86000 Kluang, Johor
Operation Hours: Daily 11am - 3pm & 6pm - 9pm (Closes on alternate Mondays and Tuesdays)
Contact Number: 012 773 3088
Price Range: $ out of $ $ $ $ $
* Non-halal
5. Tong Huat Confectionery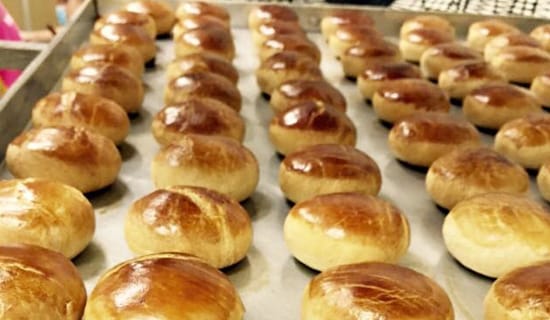 For nearly 40 years, this family-owned traditional bakery shop has stood the test of time amidst with all the emergence of modern bakeries in town. For the uninitiated, Tong Huat Confectionery is particularly renowned for its signature tau sar piah or literally translated as "bean paste pastry". Available in both sweet and salted flavour, this classic Chinese pastry wrapped in paper is baked fresh every day using the traditional handmade method. The skin on the outside is both crispy and flaky while the green bean filling on the inside is savoury enough upon each bite.
Address: 28-30, Jalan Cantik, 86000 Kluang, Johor
Operation Hours: Daily 9am - 6pm
Contact Number: 07 7714 616
Price Range: $ out of $ $ $ $ $
* Non-halal
So, there you have it. The next time if you pass by Kluang either using the toll-free old road or the highway, make a stopover for indulging some of their famous local food offered in this idyllic small town. And don't forget to check out our first part of "Johor Food Trail: What's Good in Johor Bahru" by clicking here. Till then, bon appetit and look out for our next chapter of "Johor Food Trail" soon!