6 Ravishing Dresses for a Red-Carpet Raya 2017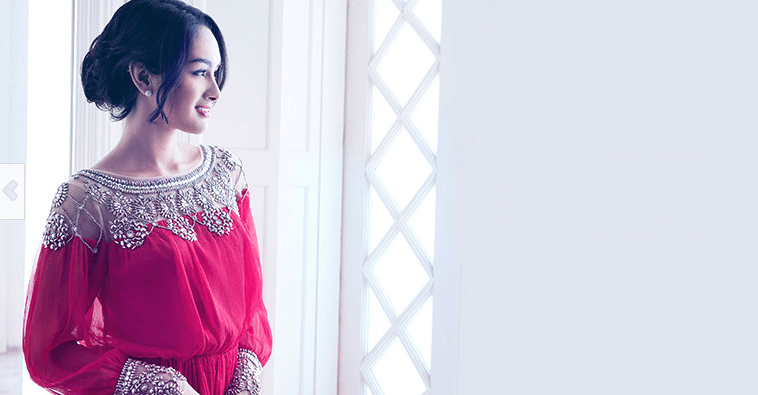 The month of Ramadan has finally begun, which means a month of fasting for our Muslim brothers and sisters before they celebrate Hari Raya Aidilfitri later in mid-July. I am pretty sure many of you have already begun shopping for your Raya 2017 outfits, usually color-themed for the whole family. I've seen many friends select different colored themes for the family's outfits every year during the first day of Hari Raya. So what color have you chosen for this year? If you have yet to decide, well ladies, a red-carpet themed Raya would be a good idea! Embrace yourself in glitzy glamour while looking oh-so-fabulous in these amazing pieces from renowned online shopping stores guaranteed to make you feel like a star.
Serene Simplicity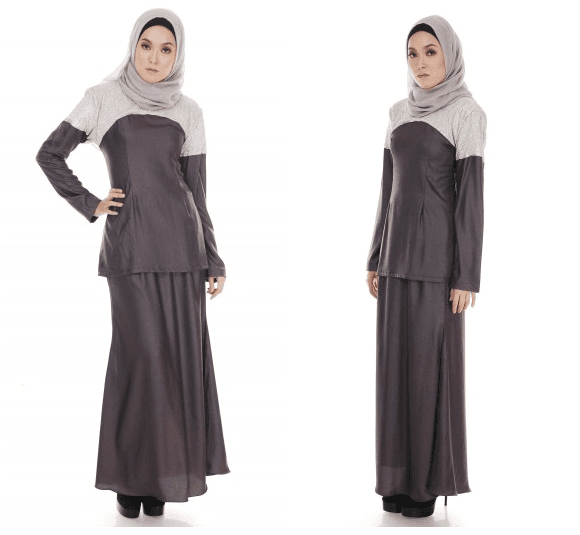 Let's start off with this a classic piece: the baju kurung. Instill a sense of curiosity into others with your simple yet mysterious charm. The metallic fabric and beads detailing lend classic charm to this baju kurung made out of silk, which comes with a concealed back zipper is present for perfect fitting. Top off this simple yet dazzling look with a neutral shawl or statement necklace if you'd prefer to let your hair down and prepare to have all eyes on you. Get the Immy Aurora Baju Kurung by Immy Lover from Seqoci at only RM279.
Prints Please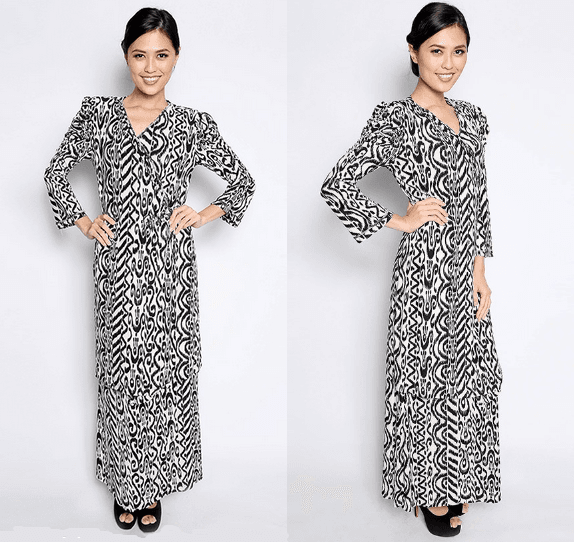 Moving on to a slightly modern version of the baju kurung; here we have the mini kurung. Slightly more body hugging than the usual baju kurung, this piece exudes vibrance and a little bit of playfulness. Not everyone has a thing for prints, but if you do, I am sure you will love this one! As the outfit is already very loud, don't over-accessorize and keep it to the minimal. A pendant and a pair of black peep-toed heels would match perfectly with this fun piece. Crafted from lycra, details include shoulder pads and a stretchable waistband. However, this piece only comes in one size (UK 8). You can purchase the Mini Kurung by Zuco Fashion from FashionValet at the price of RM110.01.
About the Brand: Zuco Fashion, offers only the latest comfortable ready-to-wear muslimah urban fashion and modest traditional clothing.
Blue Bravado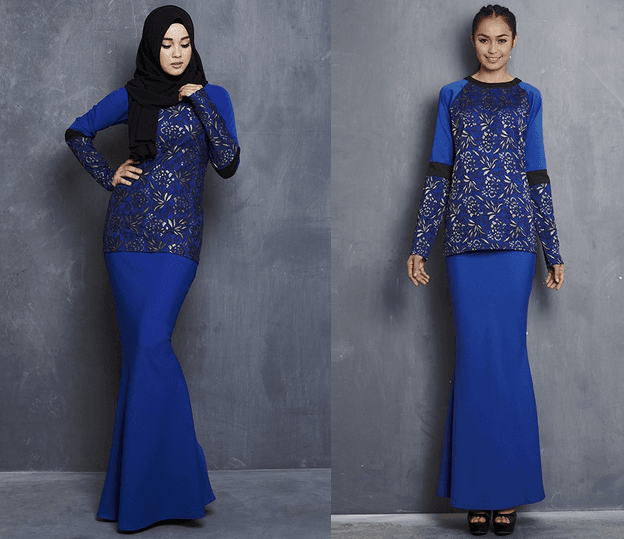 Here we have another kurung piece, with the skirt fashioned in a mermaid-cut. The mermaid skirt really is a wardrobe staple, so if you don't own one yet, you should really consider getting one. Now back to the topic at hand, this kurung is sure to add a pop of color into your Raya celebration this year with a bold blue look accompanied by black lace which signifies subtle femininity. Due to the kurung's intricate details, pick a plain black-colored headscarf to match for the colors to stand out well, sure to impress (and maybe even intimidate) the crowd! The Sahabat Modern Kurung with Lace by emel X Emma Maembong can be bought at FashionValet for RM450.
About the Brand: emel by Melinda Looi (pronounced eh-mehl) is a limited-edition, annual charity Ramadhan collection by Malaysian fashion designer Melinda Looi. The Arabic word amal, which means aspiration, expectation, and hope. In the Malay language, it means charity or good deeds; hence emel. Each year, emel by Melinda Looi aims to collaborate with a local celebrity to help raise awareness as well as encourage the spirit of giving during the Ramadhan month. This year, the co-designing celebrities are Malaysian celebrities, Emma Maembong and Liyana Jasmay.
Exuberant Elegance
Looks like the color-block is back in trend! Elegance is simply overflowing from this piece and is definitely something a celebrity would be spotted donning at a red-carpet event. The cutting and design of the top and skirt is a little similar to the previous kurung listed only with shorter sleeves. As the colors are neutral and minimal, it looks particularly flattering on the body. Also comes with padded shoulder panels for a fuller fit. Accessorize accordingly with a pair of diamond earrings and a statement necklace if you feel too bare. Get the Noraini Baju Kurung by Fazbulous Raya by Fazura at Zalora for RM400.
About the Brand: Fazura is an individual who believes in working hard and has an amazing fashion sense. As Raya is just around the corner, Fazura creates a Raya collection of stunning baju kurung and muslimah wear named Fazbulous Raya by Fazura. The ready-to-wear collection is created to show off a woman's elegant yet demure character amidst friends and relatives on Eid Day.
Glitzy Glam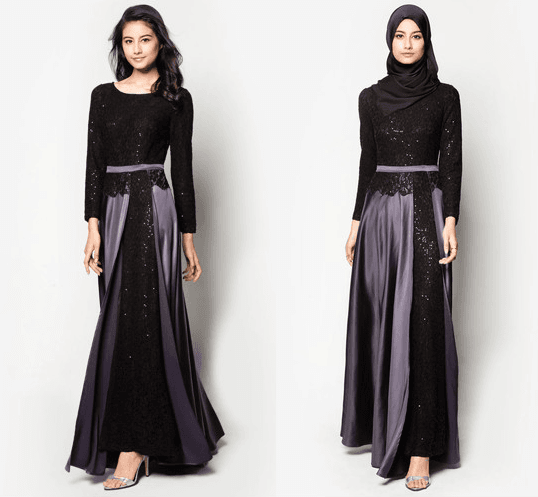 Strut among the stars in this striking maxi dress sure to catch the attention of others. The upper bodice is graced with delicate lace detailing and sequins, complementing the midnight grey satin skirt. The front silt reveals a laced inner, while the elasticized waist is punctuated with a sash tie fastening. For accessories, choose between a diamond statement necklace or a pair of bling-bling earrings. Avoid wearing too much jewelry as less is always more. You can purchase the Lace Slit Maxi Flare Dress by Zalia from Zalora at the price of RM229.
About the Brand: Following Zuhair Murad and Ellie Saab's style of bead-work, Zalia adds in their own personal touch to every piece of clothing the produce. Zalia muslim clothing is suitable for modern young ladies who desire trendy yet elegant look. Zalia highlights the simplicity of its designs with a slight hint of glamour which guarantees you looking elegant and feminine all day long.
Metallic Mermaid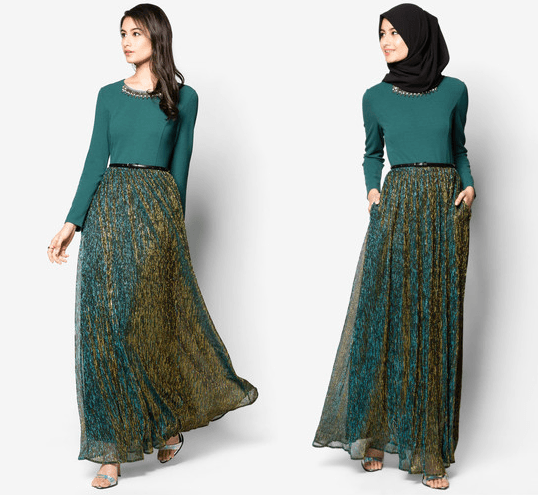 I have saved the best for last. Sweep into the room in this mermaid-like stunner and turn heads like never before. This dress is just oozing glamour with it's glittery skirt and and bold diamante details. It comes in other colors too such as black and red but this one is just amazing, with its teal and gold colors matching so well, I just can't get enough of this dress! There wouldn't be any need to accessorize much as the dress already has a faux necklace stitched onto the collar. Throw on a ring or two and be prepared to wow the crowd! The Embellished Pleated Maxi Dress by Zalia can be bought from Zalora at RM119.
There you have it, the clothing line-up specially for your Hollywood-themed Hari Raya Aidilfitri. If you've already set the theme for this year's Raya, then change it to this! Trust me, Red Carpet is the way to go ;) Do check out the stores in our main site for super great deals and promo codes to help you save on your Raya shopping. That aside, we at ShopCoupons would like to wish all Muslims a blessed Ramadan month and Selamat Hari Raya in advance!
PS: Zalora is giving you 21% OFF when you use our code. Just apply it upon check out and enjoy!
Sources: www.zalora.com.my | www.fashionvalet.com