6 Best Shopping Apps in Malaysia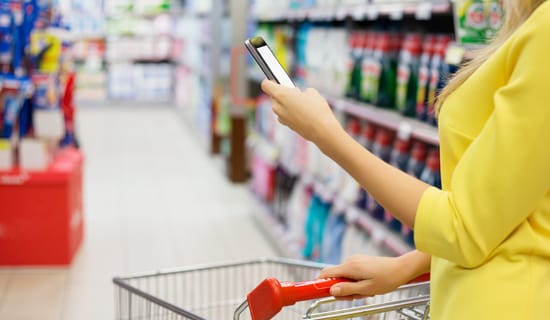 Convenience is a standard, yet essential luxury that we all need at this day and age. After all, we live in the world where modern technology trumps just about everything. So, what kind of convenience are we talking about here? One word: app. But in this particular article, we are not going to explore every app available to make your life easier. Instead, we are going to talk about shopping apps. You see, shopping can be fun or therapeutic for some people. This is especially true when you have money at your disposal to shop thing that you always wanted to buy. On the other hand, shopping can be a real hassle as well. You know what I'm talking about. Imagine braving the city traffic during the weekend, struggle to look for a parking spot around the shopping mall and so on. That is where the convenience of a shopping app comes in handy.
Okay, without further ado, here is a list of six best shopping apps in Malaysia that you ought to download and give it a try. Whether you're looking to shop for clothes or buying groceries, we have them covered right below!
1. Carousell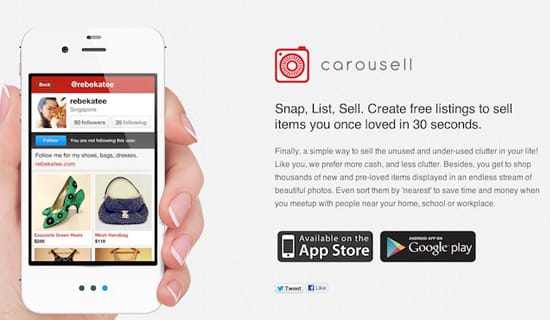 For the record, it has nothing to do with shopping for an online ticket to ride a carousel in the amusement park. Instead, this Singapore-based app is actually more of a mobile community for those who want to buy or sell new/used products. The procedure is as simple as riding a carousel, no pun intended. If you're a seller, all you need to do is snap photos using the app or upload products from your gallery. Carousell even comes with a range of photo filters to help you beautify your products (think Instagram and you'll get the idea). Best of all, you can sell anything such as new/used clothes, designer bags and gadgets. Buyers, in the meantime, can use "Private Chat" feature to talk and negotiate the prices of the product with the sellers before finalising the offer. Carousell is available on both Apple App Store and Google Play Store.
2. SmartShopper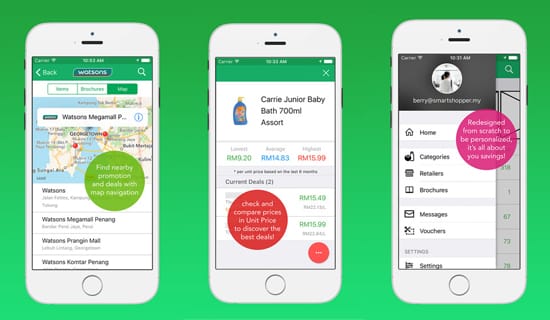 True to their "Shop Smart, Save Money" tagline, SmartShopper offers you the convenience of comparing different retail prices without the hassle of physically going there all by yourself. For instance, you can easily track down the best price for Milo powder between Giant and Tesco. On top of that, you can also browse "Editor's Pick" to search for best deals available as well as creating your own shopping list and receive notification whenever the price has been updated. To help you save more while you shop, discount vouchers are available for download. SmartShopper is available on both Apple App Store and Google Play Store.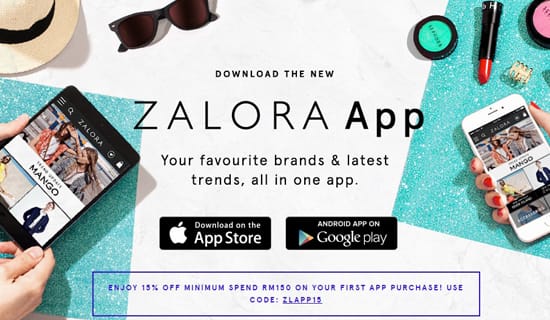 Zalora needs no introduction. It's one of the most popular online shopping sites in Malaysia where you can browse and shop via home desktop and mobile app. Zalora offers a wide range of local and international brands available for women, men and kids such as Superdry, Miss Selfridge, Topman, Nike as well as the in-house brand by Zalora itself. You can filter your search via different categories such as shoes and clothing or pricing from top to low and vice versa. What's more, you can also see the image in different angles as well as detailed description of the item. If you like the particular item, you can either choose to "Add To Bag" or "Add To Wishlist". For payment, Zalora provides various options such as COD (Cash On Delivery), credit card and online banking services. On top of that, you can enjoy exclusive discounts from time to time if you are a registered Zalora user. Zalora is available on both Apple App Store and Google Play Store.
4. CLOSETStyles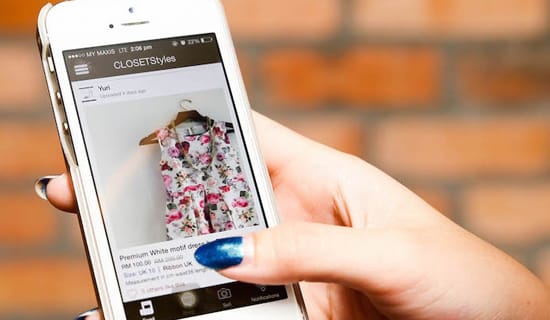 Specially designed to target for women, the Malaysia-based CLOSETStyles is a marketplace app to buy and sell "pre-loved" fashion items such as clothes, bags and shoes. All you have to do is to snap a photo of an item, list and sell in the app within 60 seconds. Other than making money selling off your fashion items, you can also shop your favourite designer brands such as Burberry, Chanel and Prada for up to 90% off retail prices! What's even better is that you don't have to go all the way to the post office to send or collect your items since CLOSETStyles provides free courier service right to your doorstep. CLOSETStyles is available on both Apple App Store and Google Play Store.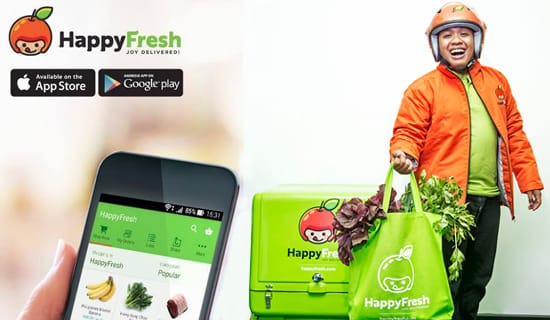 Dreaded waking up early in the morning to shop for fruits and vegetables in the wet market? Well, HappyFresh can help you solve that problem. This app allows you to shop online groceries such as fresh produce (e.g. mango, coconut and orange) and dairy products (e.g. chicken egg and quail egg) by browsing through a list of different categories. Once you find what you're looking for, you can click on an item to know about the detail such as information label and unit price. The rest is pretty straightforward, as you add your item to the shopping cart and click "Checkout" where you'll be asked to signup or login if you're already a member. And here comes the best part: HappyFresh will have your groceries delivered within one hour! Now, how cool is that? HappyFresh is available on both Apple App Store and Google Play Store.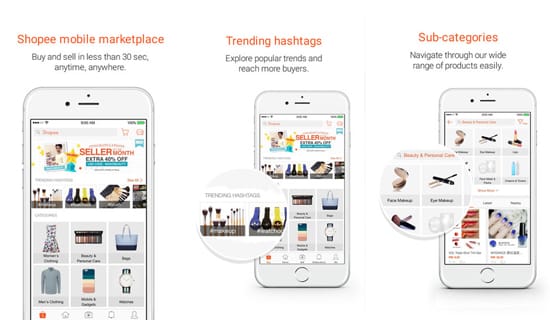 Looking to dispose your items and sell them online? Well, Shopee may be your best answer. For sellers, you can choose to sell your new or pre-loved products where you are allowed to upload up to 9 photos for each listing. All you need to do is to snap a photo of your item using the "Camera" app. Alternatively, you can also import existing photos from your Instagram. Once you fill in the product details accordingly, your item will be listed on Shopee. For buyers, you can browse through different categories or explore popular trends via hashtags. Prior to making your purchase, you are allowed to "Chat Now" to discuss or make an offer with the respective seller. Shopee is available on both Apple App Store and Google Play Store.
7. ShopCoupons
Newly launched ShopCoupons is not an unfamiliar name to those in the online shopping scene. Hundreds of Malaysian online shoppers look for discount and promo codes every day to help them save on the total in their shopping cart and with the launch of ShopCoupons' new mobile app, this would be a big help to said online shoppers.The app is fairly simple to use, just search for the store of your choice. grab any available coupon code and use it upon checkout to enjoy the discount!
So, there you have it! With just a few clicks, you can easily browse and shop at the comfort of your own home or even at your office. Of course, there's always pros and cons (don't they all?) upon utilising a shopping app. But let's face it, nothing is perfect. What's more important is that these shopping apps listed above help save us time, money and yes... give us the kind of convenience whereby traditional shopping method don't. Also, in case you're looking to make your life a little easier, check out these 5 apps.