5 Unique Castles in Asia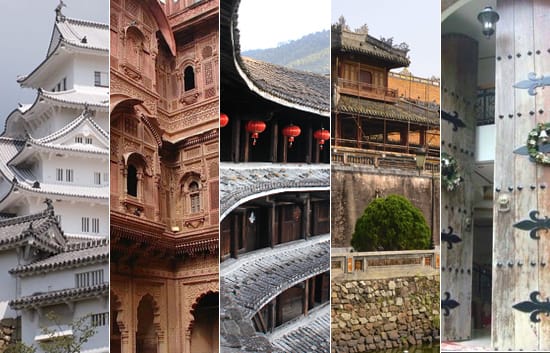 The word castle came from a Latin word, castellum, which meant fortified place. Castles around the world were built with the same intentions – defence strongholds, control central and residence for a community of lords and serfs or clan and livestock.
Let's stay in Asia and explore the cream of the crop. We see a different kind of archeological wonders here, without the turrets and drawbridges, but equally rich and colourful with history.
Miraculously undamaged and originally pristine – Himeji Castle, Japan
Tom Cruise filmed The Last Samurai there. James Bond was there undercover in You Only Live Twice. The largest and most visited castle in Japan, Himeji Castle, circa 17th century, is also known as the White Heron for its awe-inspiring spotless white facade.
Declared a UNESCO World Heritage Site in 1993, this feat of castle architecture houses meandering mazes, 15-feet high stone-walls, fire resistant rooms, trapholes that released landslides, labyrinths designed to confuse, unscalable fan-shaped walls and a host of self-defence measures to deter the enemies.
It survived coups and riots during the Onin War, ownership battles, had shells lobbed at it during the Meiji Restoration, been fire-bombed during WWII, and withstood the Great Hanshin Earthquake in 1995 which killed thousands. Yet, it has never been damaged! Perhaps a credit to its fortified construction or simply by miracles, it remains the best preserved castle in Japan.
Today, still authentic, Himeji proudly perches atop a hill, surrounded by hundreds of cherry trees – one of the most picturesque spots in spring Japan, exuding grand-scale beauty and tranquility.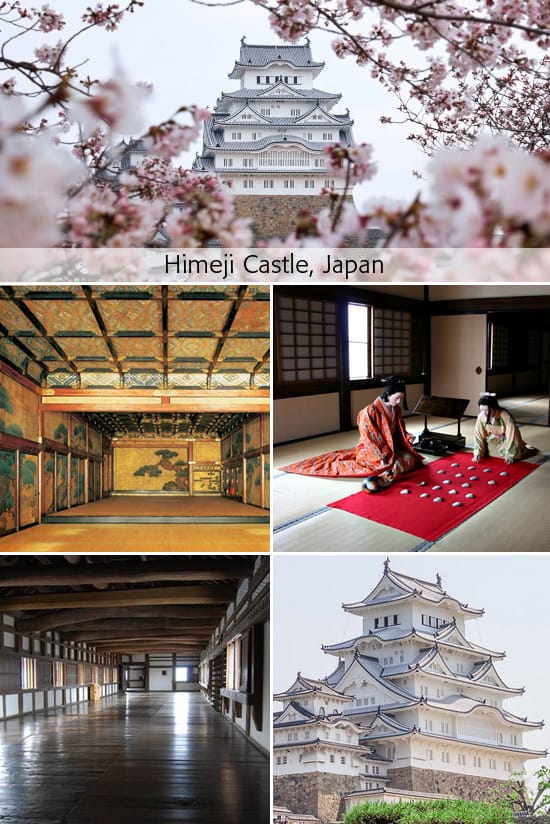 "The eighth wonder of the world" Jackie Kennedy – Mehrangarh Fort, India
Jackie Kennedy was not wrong. Rudyard Kipling called it "the work of angels, fairies and giants...".
Mehrangarh Fort, circa 15th century, is a staggering hilltop fortress in Jodhpur covering wondrous gardens, lavish courtyards and palatial residences within massive walls over 36-meters high and 21-meters wide. It is guarded by 7 gigantic gates 125-metres high up the cliffs, each commemorating a particular battle victory, all auspiciously marked by the handprints of the royal satis (consorts who burnt themselves on the funeral pyres of their deceased emperors).
Its outer appearance of weathered stone and rock walls belies the richness in architecture and artifacts held within. Witness Sheesh Mahal's walls of inlaid-mirrors, Phool Mahal's floor-to-ceiling gold decorations and Takat Vilas' gem-ornateness topped with quaint Christmas baubles. Walk the terraces and take in the expanse of the city of blue roofs below. Visit the museum to marvel over India's best collection of elephant howdahs (elaborate seats for elephant riders), gilded palanquins, unrivalled store of calligraphy-embossed and gem-laced weapons, famous Mughal fine art, rare musical instruments and costumes.
End your visit ziplining above the Fort as the sunsets – this is a once in a lifetime chance to soak in the immensity of an ancient charm.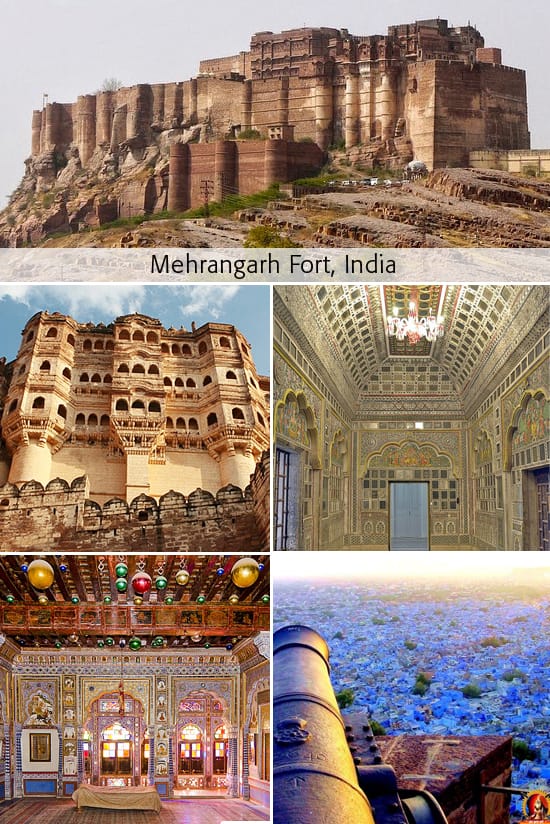 China's nuclear missile silos?! – Fujian Tulou, China
During the Cold War, many suspected these large cylindrical structures to be China's store of nuclear power! UNESCO World Heritage later clarified the matter in 1998, they are simply "exceptional examples of building tradition and function exemplifying examples of communal living and defensive organisation".
When, circa 14th century, the Hakka Han nomads settling in remote south-west Fujian found themselves at the mercy of bandits and local hostility, they protected themselves with housing constructed from packed mud and clay with wood and stone for structural support. An iconic cluster of 46 buildings (Fujian Tulou) was built. Each 3-5 stories high, 80-metres in diameter and shaped round for auspicious feng-shui, good ventilation and sunlight access. There is only one doorway for access and windows, set high, are peppered with gun holes.
Life in a Tulou is clan-based and strategically split by floors. The hollow centre makes the communal courtyard, the first floor for food preparation and dining, the second floor, away from ground damp, for food storage and higher floors deemed safest for bedrooms. Each family owns his vertical slice of the building, all shared equally.
Today, many 'living' Tulou work with tourism to survive. Some are even converted into hotels. So, do get to see one before its authenticity disappears, visit a smaller one to sample real rural communal life round farming and tea-harvesting.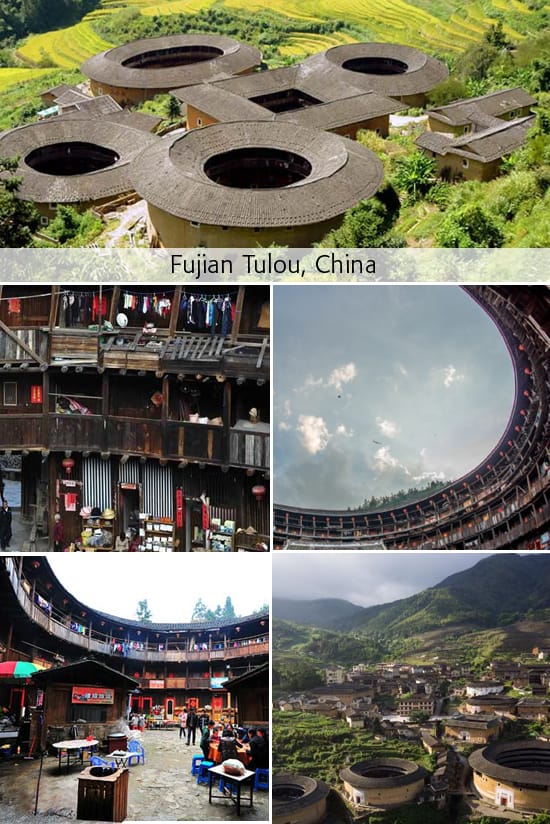 A unique fusion of cultures – Hue Citadel, Vietnam
The Hue Citadel is an architectural monument that was influenced by styles from three nations. Circa 17th century, inspired by Chinese geomancy of Beijing's Forbidden City, it was built in feng-shui alignment with its surrounding landscape and the 5 elements of yin and yang. The French architect, Vauban, fortified it with serrated walls, intricate trenches, moats and 24 bastions armed with over 400 cannons. The locals populated it with a variety of ornate temples, antique altars, decorated pagodas and feudal relics in accordance with their own customs.
The Citadel is a complex of 3 concentric sanctuaries, housing 140 small and large constructions, surrounded by a 7-kilometre canal system by the Perfume River and guarded by 10 majestic gates. The outermost Capital City, protects the second Royal City, which in turn surrounds the third Forbidden Purple City, the heart restricted only for the use of the presiding Emperor.
The Nguyen dynasty ruled from it for over 100 years until the French colonised the country. Unfortunately, it also became the site of one of the longest and bloodiest battles of the Vietnam War in 1968. Today, it is a legacy of both colourful feudal rule and ravages of the turbulent Tet Offensive – Vietnam, old and new, together in one truly historical landmark. Bicycle tours are available to see the entire 520-hectares of this monumental history.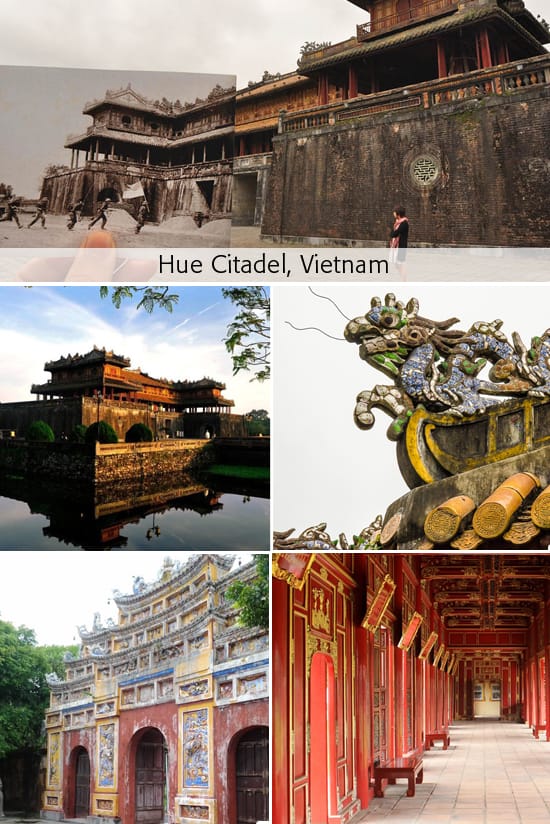 Be King and Queen of your own castle! – Tai Castle, Philippines
Inspired by the history above? Fancy making your own history in a castle? You can! Stay in one exclusively yours, lord over it, make yourselves king and queen… circa recent. Php15,000 for a day!
A modern fusion of Filipino and Hong Kong commerce, Tai Castle comes with gold-plated furniture in the family room, powder room, library, servants' quarter and more, in a palatial-setting fit for 15 people and a rooftop swimming pool. The entrance is protected by an authentic-looking castle door with real heaviness and guarded by a menacing-looking sword reminiscent of King Arthur. The castle is sumptuously decorated and fully-equipped with all mod-cons, together with an in-house butler-cum-maid and ample spaces to park your chariots. (Facts from Alt3ernateroutes)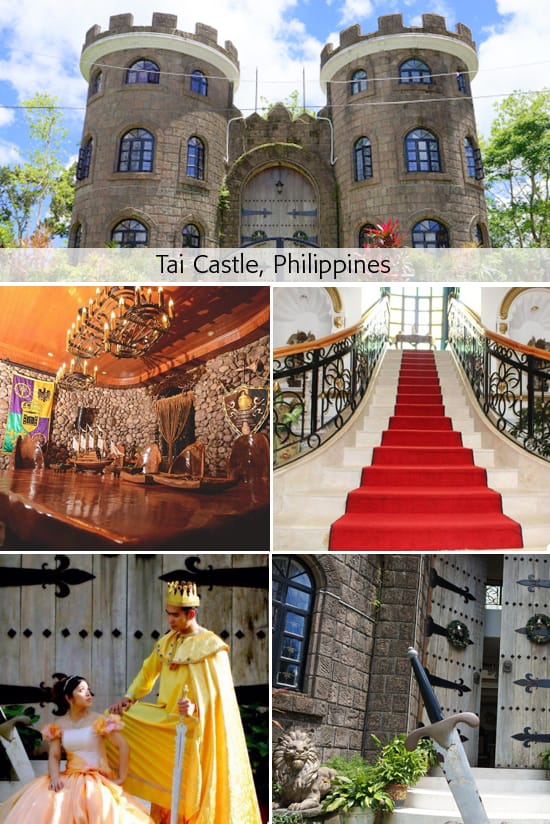 ♦ ♦ ♦ ♦ ♦ ♦
So, go enrich your next holiday trip with a walk in history, make a castle part of your itinerary. And hey, here are some best of the picks from Shopcoupons.my to make that unique experience affordable: Agoda – up to 75% + extra 5% off Worldwide Hotels! Expires 2016-10-31, Expedia – up to 40% off daily hotel deals Expires 2016-12-30, AirAsiago.com – up to 70% off + extra 10% off hotels with CIMB cards Expires 2016-12-31, Firefly – "Like" & "Share" their page to grab free Firefly tickets Expires 2016-10-31.
And when you return, get Photobook to make your photos into great memorable keepsakes, don't miss out on some pretty sweet deals: 60% off canvas prints, 55% off photo gifts, up to 80% off calendars prints.