4 Restaurants Meat-Lovers Should Try in the Klang Valley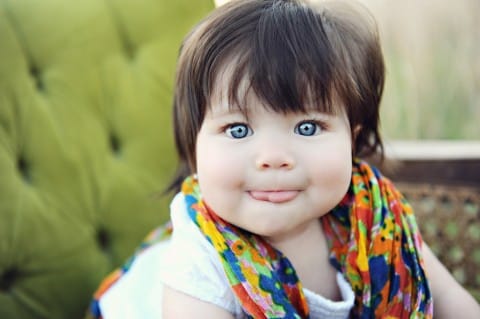 Meat lover much? You are probably going to love this post – 4 restaurants specializing in the meat cookery! More than 3 is usually considered a lot of choices already – and now there are 4 – so hopefully one of it suits you!
CAUTION: Full of meat ahead for the Meat-Autumn Festival! Progress with care, you've been warned.
Ready? Let's start the exploration with your eyes (for now):
*Restaurants not recommended based on any sequence
The Beato Aged Steakhouse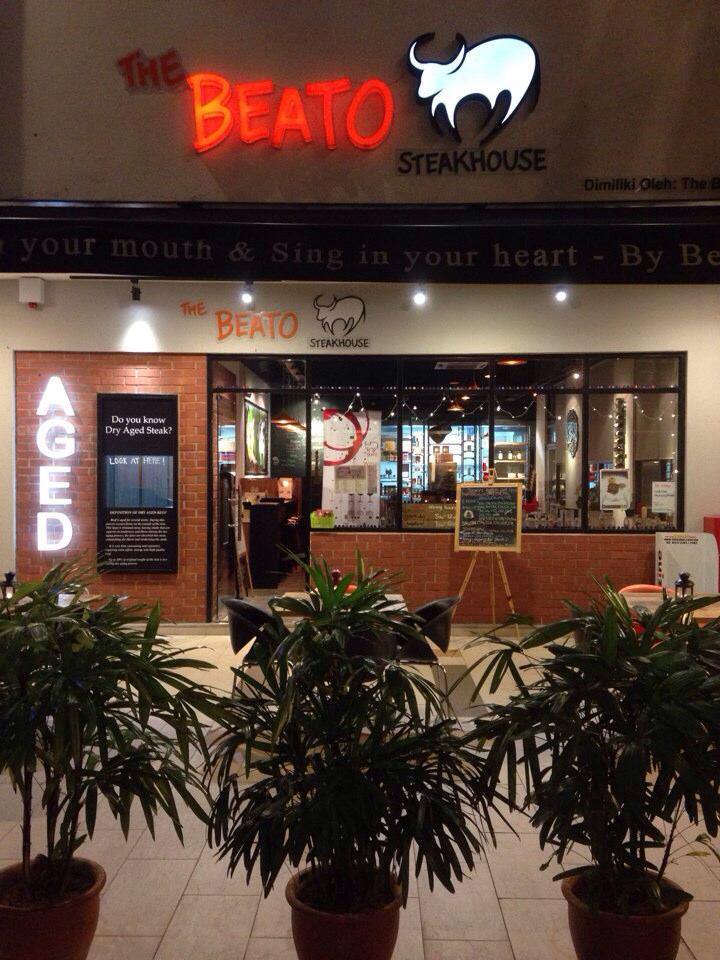 Most of us probably heard a lot about steak, and are rather familiar with the juiciness of steaks I suppose, but how much do we know about 'aged steak'? Steak aging involves quite an extensive amount of time such as a couple of weeks, or perhaps more, before the natural flavours and tenderness are locked within the piece of meat, giving it a unique flavour as we consume it.
As steak aging consumes time, not many restaurants in Malaysia practise this except for some really specialized steakhouses or upscale butcher shops, and one of the recommended steakhouses that serves really good aged steaks is The Beato Aged Steakhouse. This steakhouse takes the time to carefully dry-age the steak with all the right elements present, being extremely delicate in preparing their aged steak dishes to provide their customers with the true flavours of aged-steaks, living up to their namesake.
Aside from aged steaks, you still have choice of white meat such as poultry and other red meat such as lamb. If you are not a fan of beef, trying other dishes may be just as satisfying as having the aged beef itself. A must try is their Lamb Rack, its deliciously tenderized lamb that literally melts in your mouth will give you a taste of heaven, with robust flavours exploding on your tongue claiming every single sweet spot of your taste buds – MUST TRY. Fear not if you're worried about the smell that you usually get when having lamb, this dish does not have the odor that will put you off.
Here are some photos for your reference: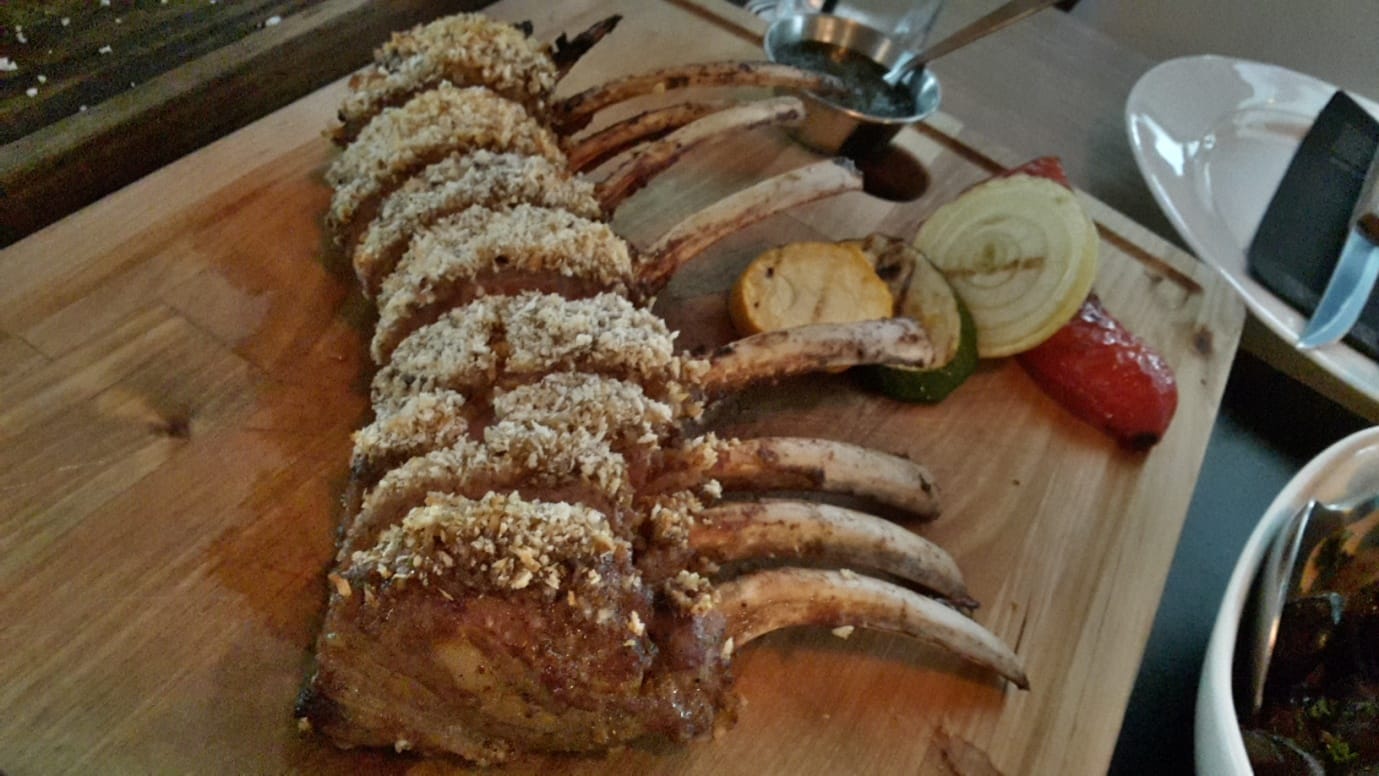 The delicious Lamb Rack that got even me – I don't usually take lamb – craving for more of it.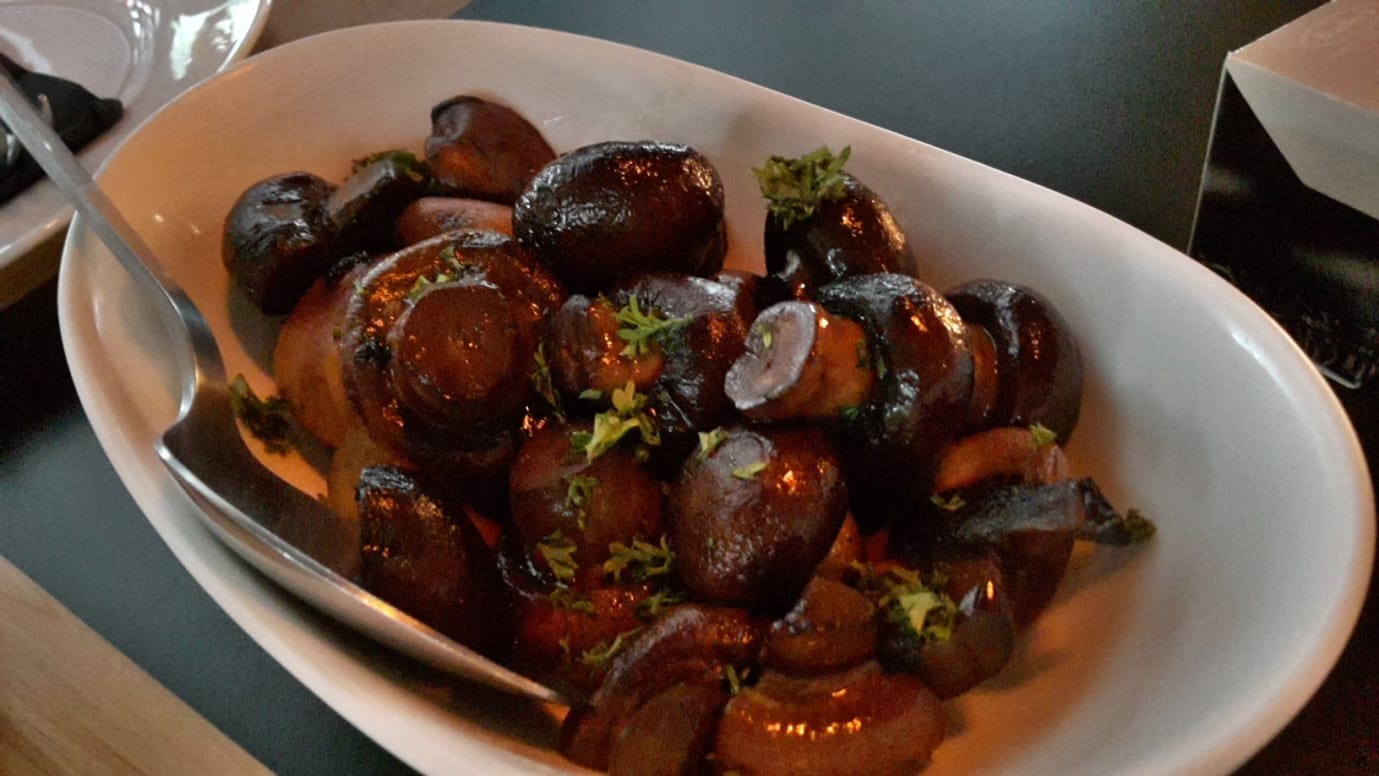 As mentioned before, other than meat, they also serve other side dishes to go along with the meaty session – Sautéed Mushrooms.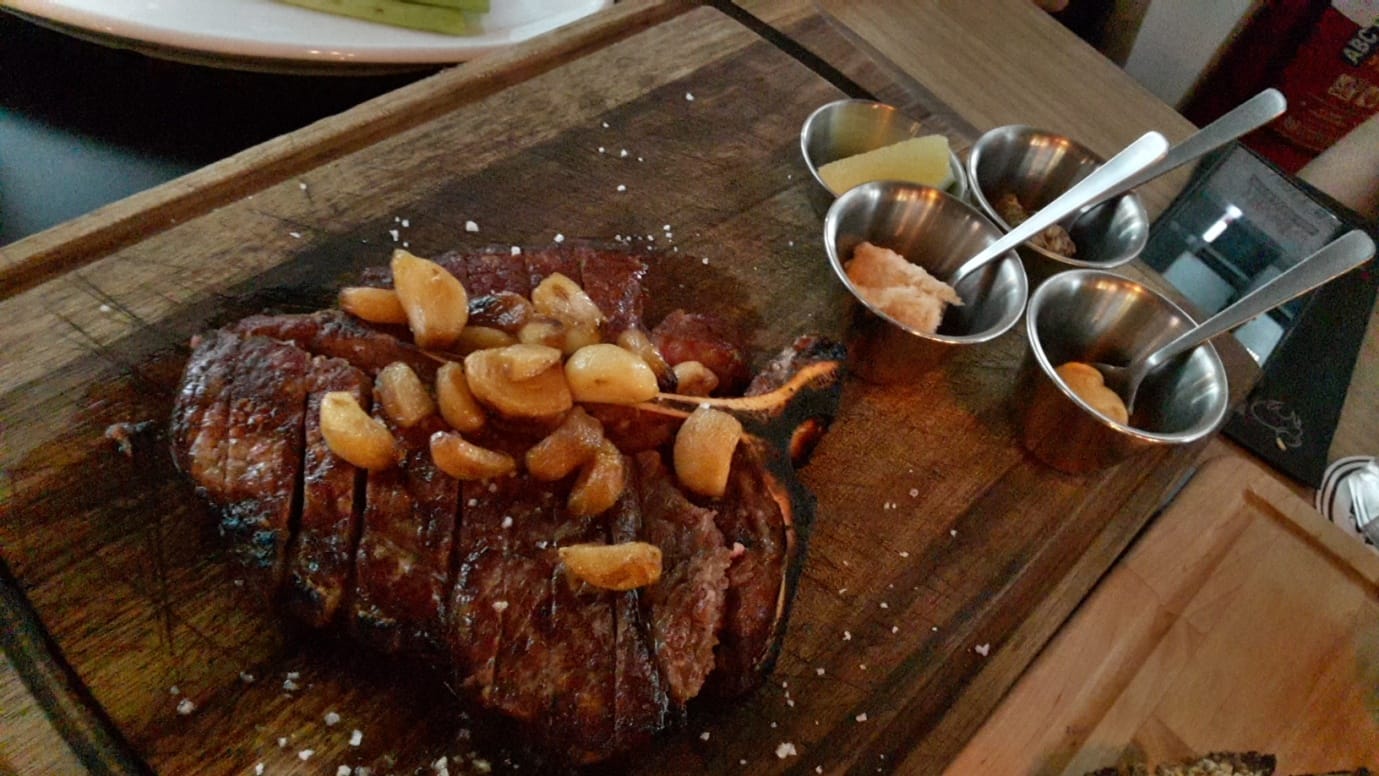 A few hundred grams of aged steak that is worthy of every single dollar spent. There are different sauces to go with and a slice of lemon to give it a sourish kick.
Address: D2-G3-9 Solaris Dutamas - Publika, 50480 Kuala Lumpur, Malaysia
Operation Hours: Mon – Fri: 5.00pm – 12.00am
Sat – Sun: 12.00pm – 12.00am
Contact Number: 03-6206-2405 (Publika)
Price Range: $$$ out of $ $ $ $ $
*Non-halal
PoP's Eatery

Even though this restaurant doesn't really specialize in the meat cookery, but hey, almost every single dish is served with a generous portion of meat! Of course, desserts and drinks aside.
There aren't many restaurants that offer good food and also at a very good price in the Wangsa Maju Area, but if you can find one, then you would have found a gem to have your meals. Here's one of the gems I mentioned, PoP's Eatery serves a variety of dishes ranging from pastas to sandwiches, wraps, and desserts. They pride themselves in serving comfort food and at a very affordable price, thus it has become quite a popular hangout place for students and many alike who are in search for great, valuable food.
Here are some pictures of the food they serve, courtesy of PoP's Eatery's Facebook: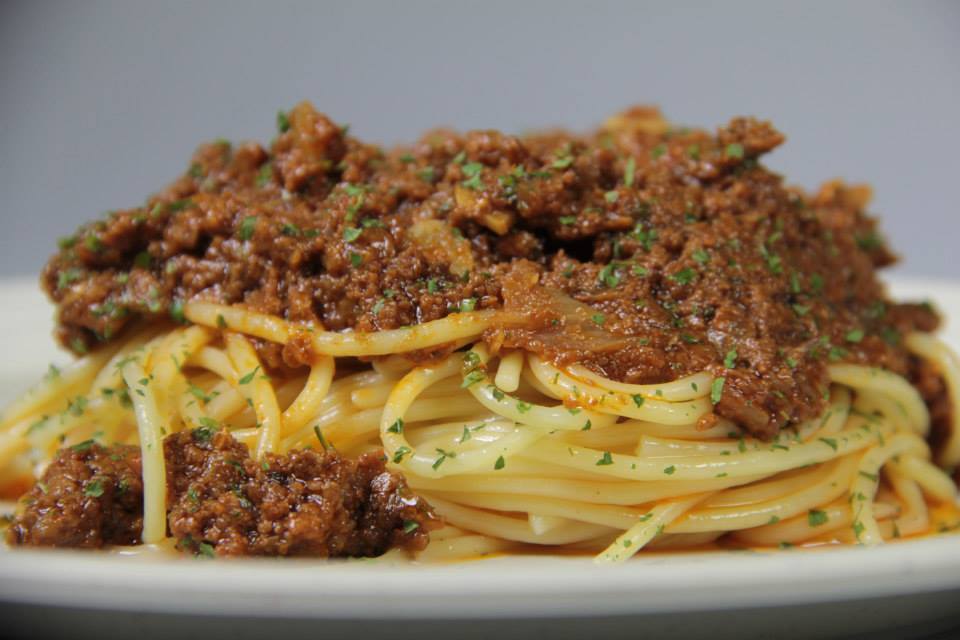 Juicy Beef Bolognese Spaghetti, a popular favourite amongst the patrons.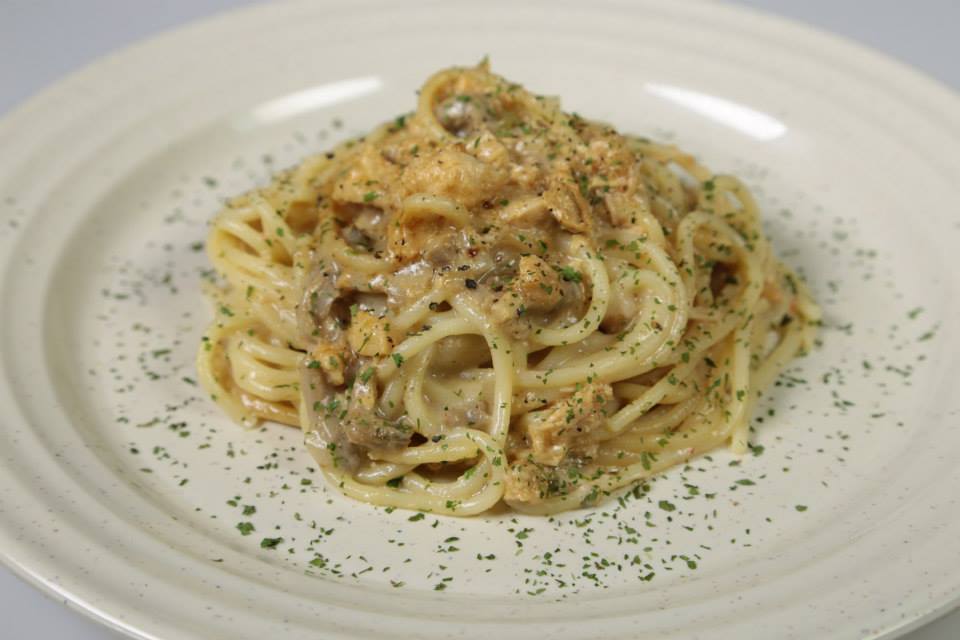 Stir Fried Carbonara with Diced Chicken, cooked in red and green peppers. Aside from all the meat glory, vegetables are important as well.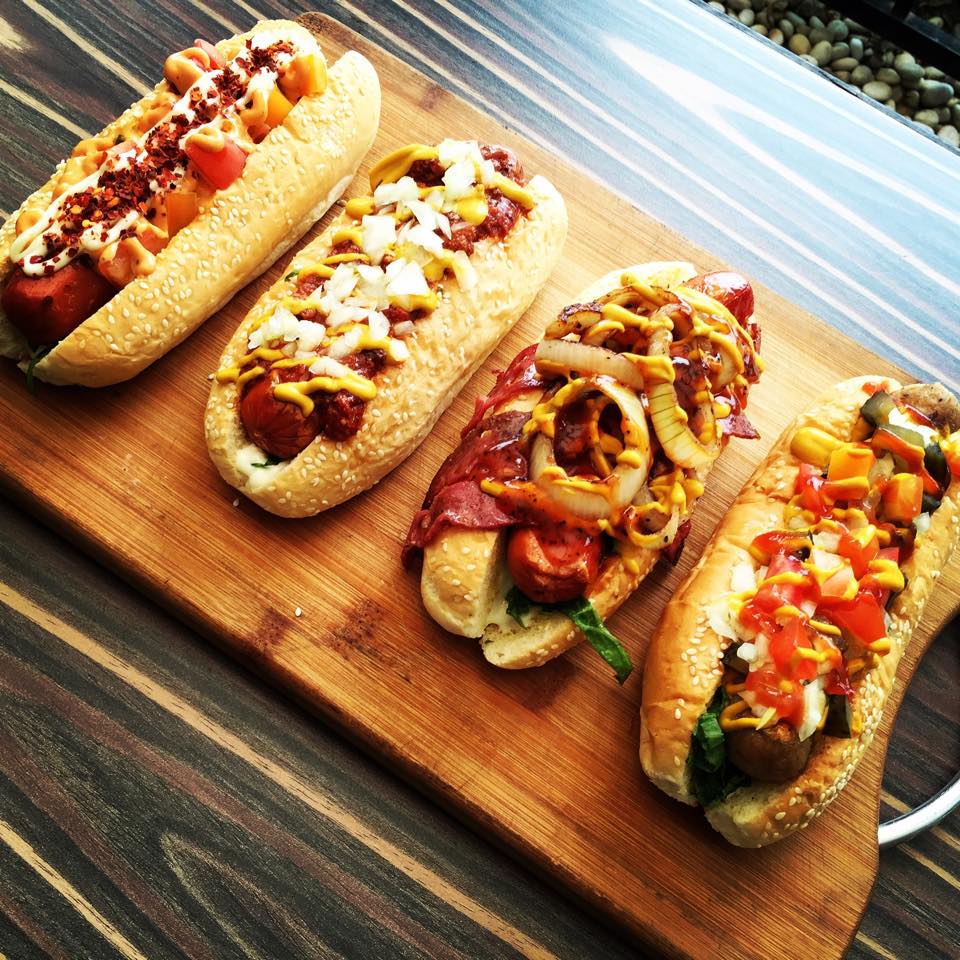 They serve mouth-watering hot dogs that they call 'Hawt Dawgs', a few from the series of 'Hawt Dawgs' that they have in the house.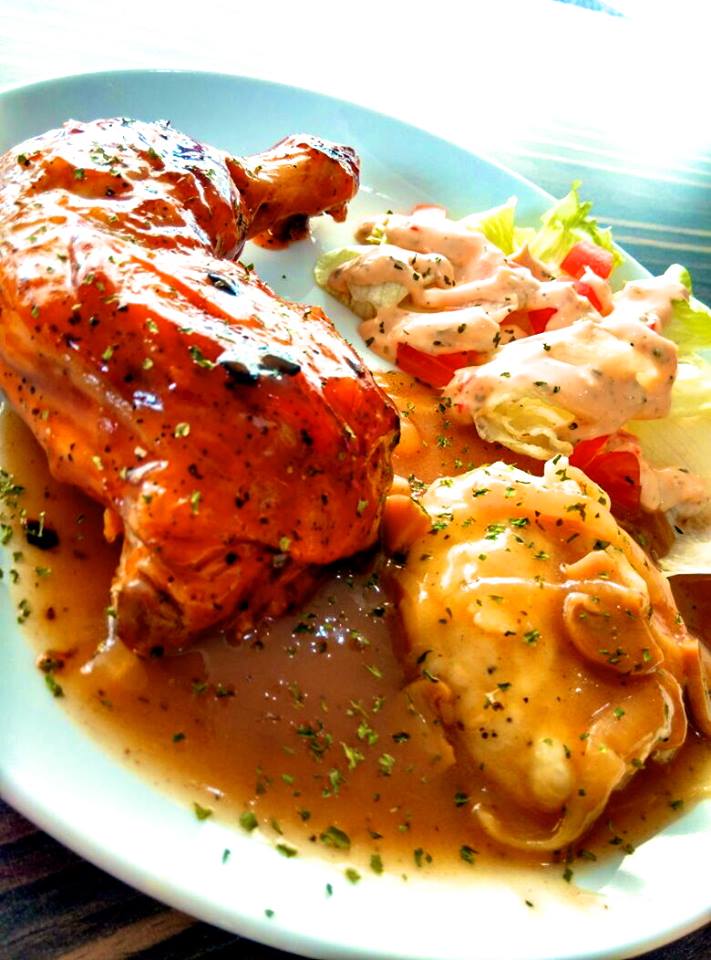 They also have these hearty meals to fill your soul with yumminess and fullness! It's a Whole Chicken Leg Pan Fried in BBQ Marinade sauce, served with Buttered Mash Potato, Lettuce & Diced Tomatoes, and served along with PoP's Mushroom Brown Sauce. Simply delicious.
Address: Lot 28055, Jalan Wangsa Delima, Wangsa Maju, 53300 Kuala Lumpur, Malaysia
Operation Hours: Tue – Sun: 11.00am – 11.00pm
Contact Number: 03 4144 3162
Price Range: $ out of $ $ $ $ $
*Halal
Rocku Yakiniku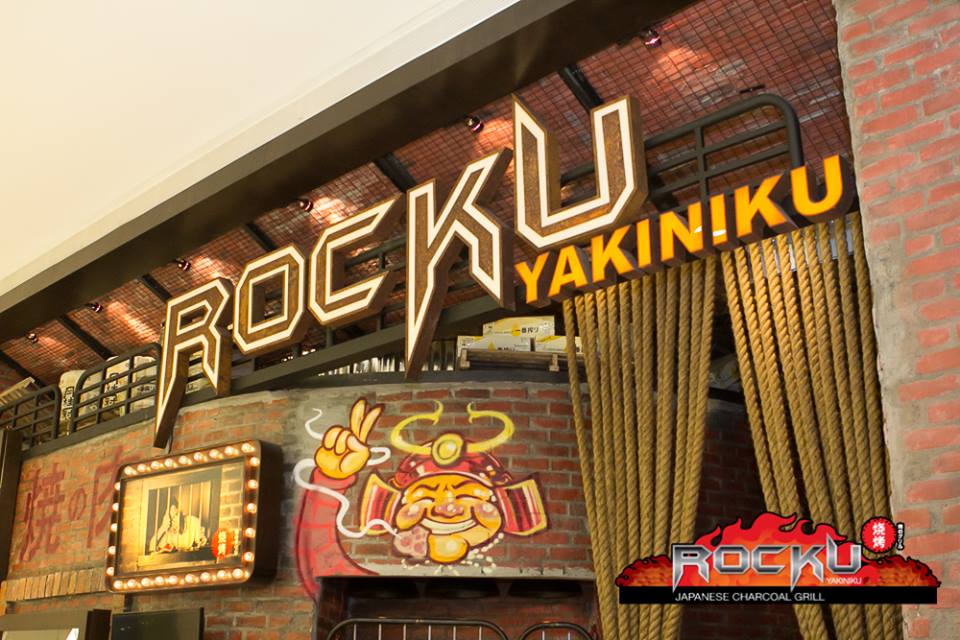 Fan of Japanese cuisine? Fan of barbeque? Or are you a combination of both? Be it a yes or a no, this is a place that is worth visiting given if you're a meat-hungry person. Rocku Yakiniku offer a 100 minutes buffet that allows you to eat however much you want, so this place allows you to literally 'eat until you drop'.
It's highly recommended that you empty your stomach 3 hours before you start eating here, so that you make every single cent spent in this buffet worthwhile (just kidding about the 3 hours part). In all honesty, if you're just going to eat for one round, it's not worth it, so get a group of friends or bring a friend that could eat an elephant to go for a second or even third round of ordering and burn 'em meat!
Aside from meat, you get to order seafood too, as well as other side dishes that are displayed in a buffet style bar. One tip: for ordering, don't get tricked by the portion stating '3 slices/pieces' for the meat dishes, its serving per slice is humongous, so if your stomach is as small as a cat, consider this factor to avoid over ordering and ending up with food wastage.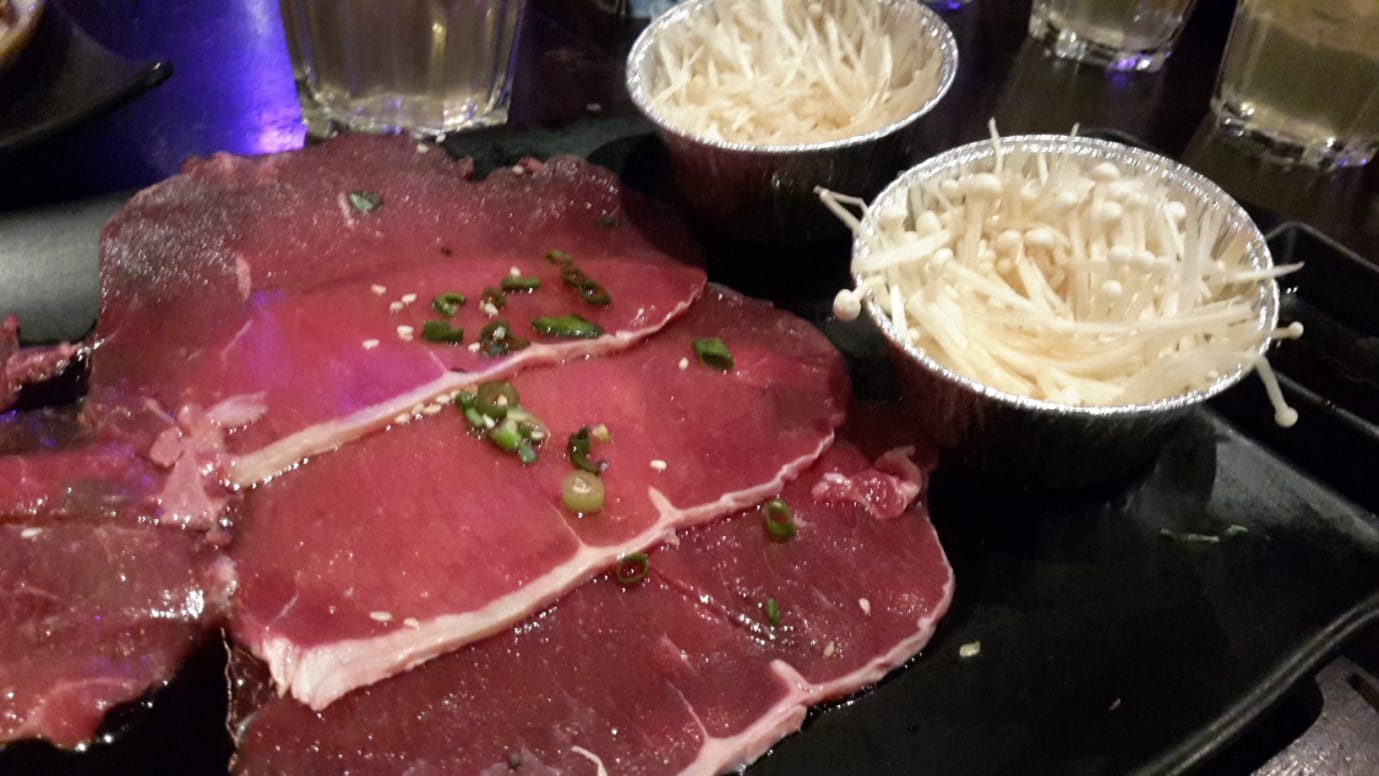 The beef set consists of sirloin and some other parts of the cow – pardon me for forgetting the parts please –, you can also order Enoki mushrooms, those as seen in the photo are ready for open fire in the grill.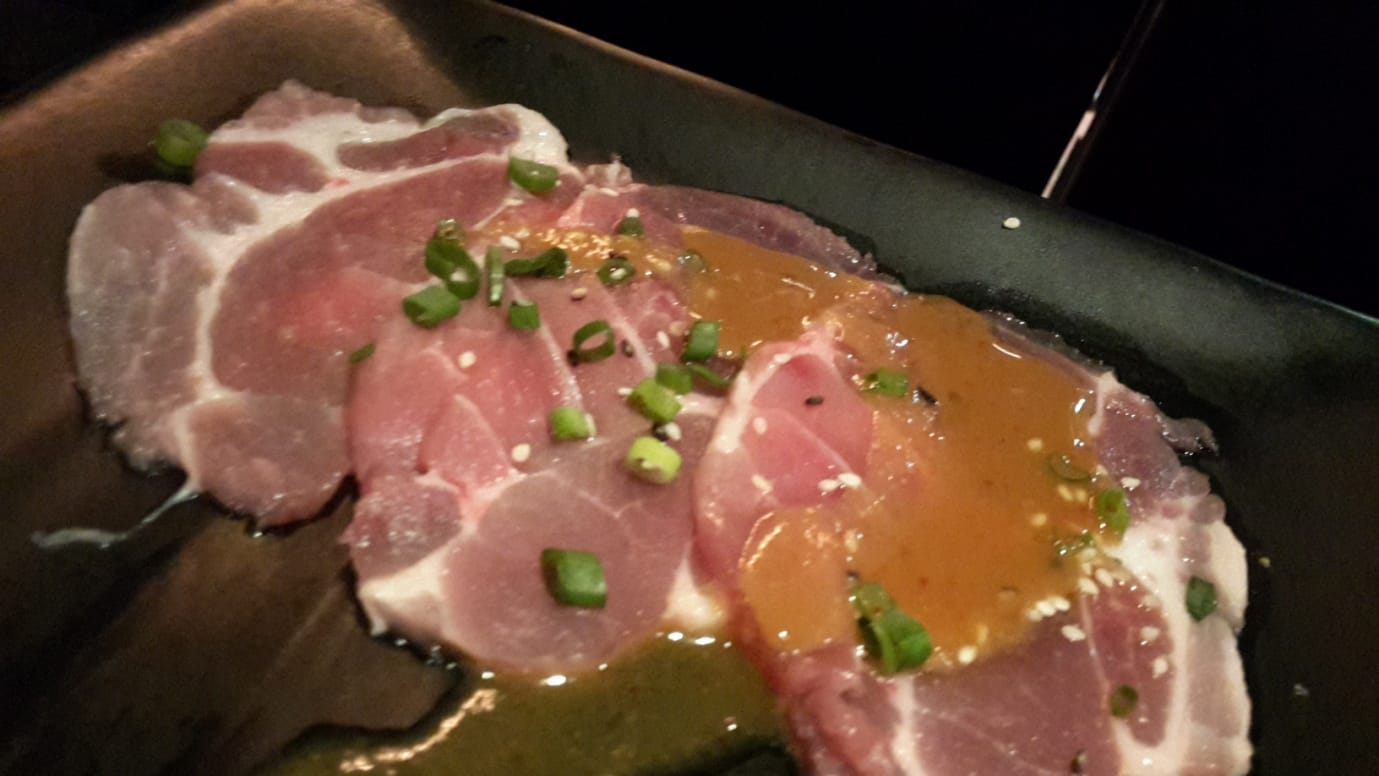 One of the portions from the pork set, they also have bacons (yummy for barbeques) served alongside the pork set too.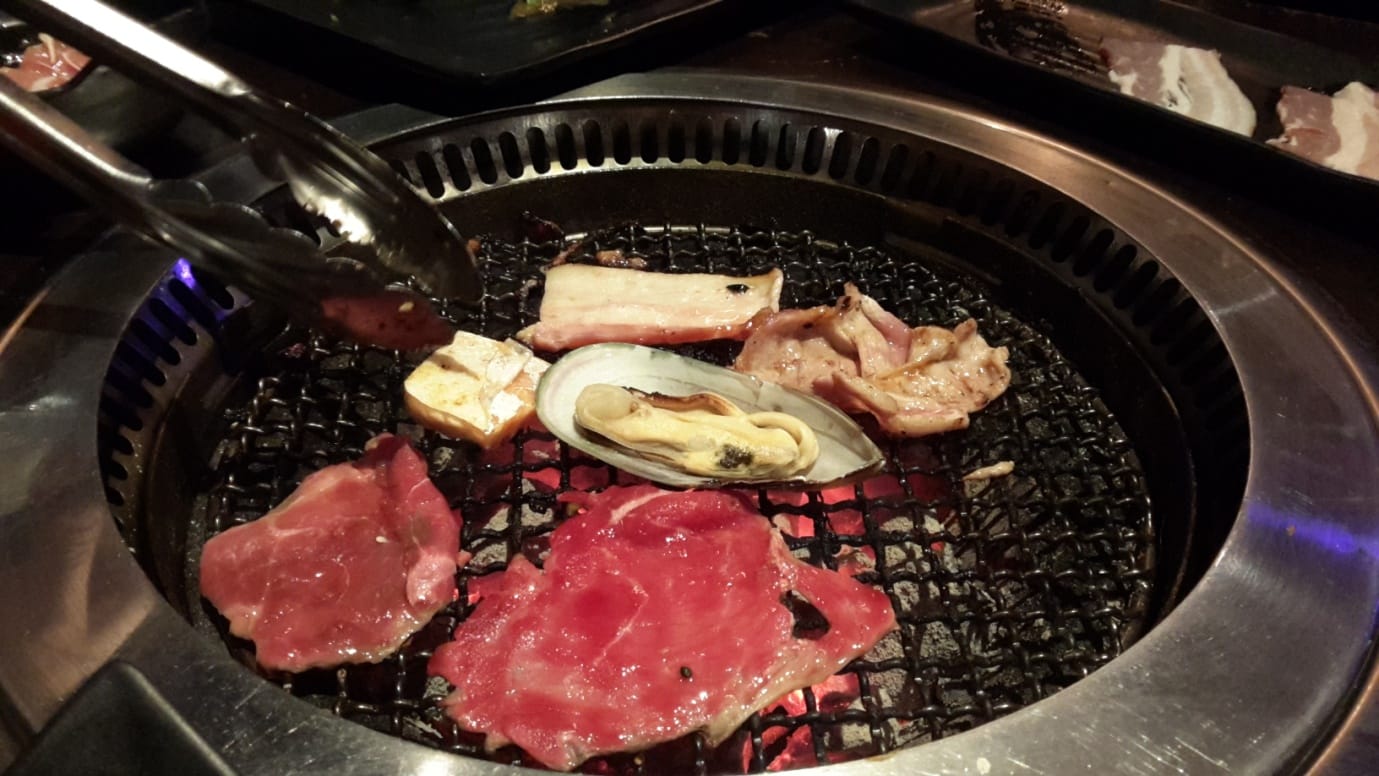 Grillin' Time! (Yep that's a mussel; they even have scallops and prawns!)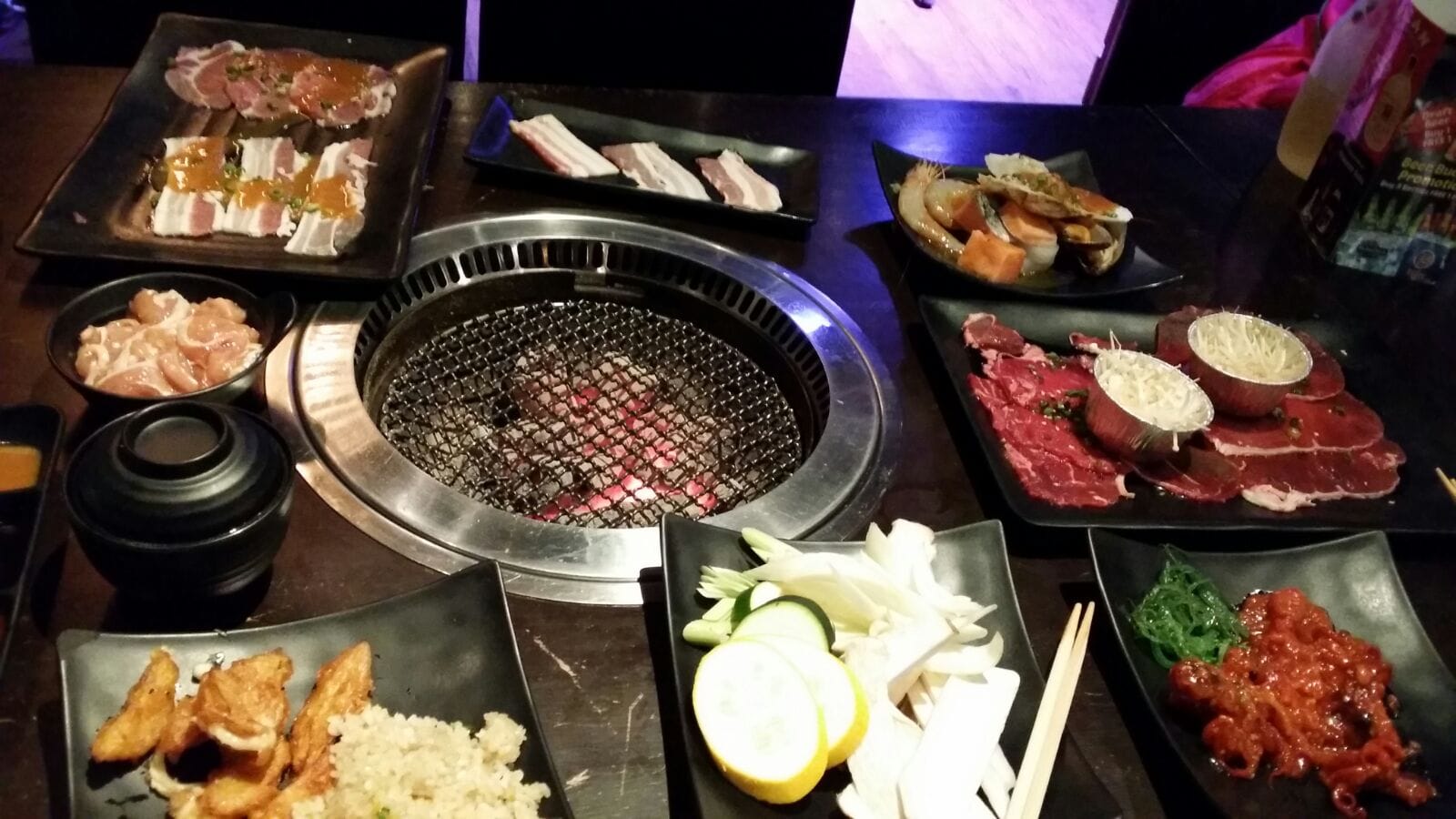 Address: Level 7, Pavilion KL, 168, Jalan Bukit Bintang, 55100 Kuala Lumpur, Malaysia
Operation Hours:
Sun-Thu:
11:00am –11:00pm
Fri-Sat:
11:00am –12:00am
Contact Number: +60 3-2148 8884
Price Range: $$$ out of $ $ $ $ $
*Non-halal
Sae Ma Eul BBQ @ The Square, Jaya One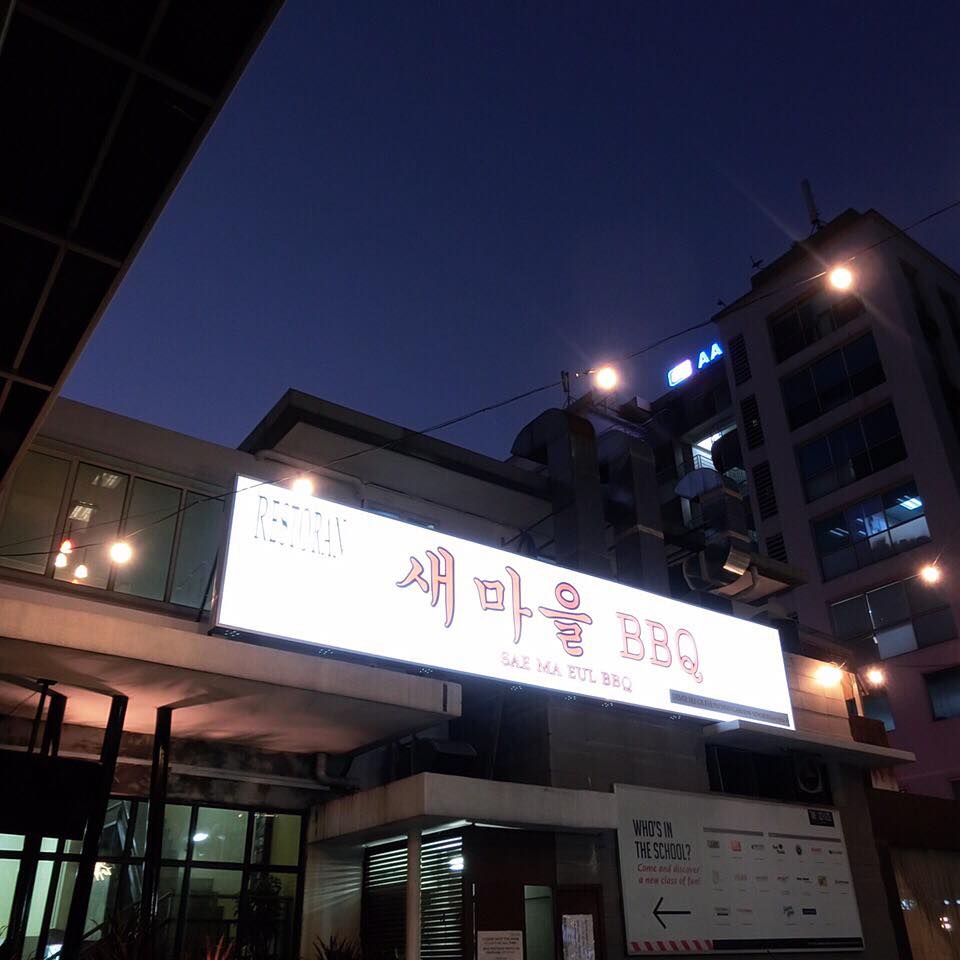 Korean cuisine is famous for their kimchi dishes, soups, stews, and nonetheless its barbecue that has become a hit even in sunny, hot Malaysia. Another restaurant that serves delicious Korean barbecue AND at a really, really economical price is Sae Ma Eul BBQ.
Allow me to explain why I made such a remark: the first thing in their menu is their BBQ set, for RM 38 (exclusive of GST) you get a plate of big-heartedly grilled meat – given choice of pork or chicken – one Kimchi Soup, one Steamed Egg, and 2 bowls of rice along with the usual Korean side dishes for two persons. All for RM 38+, another that could make your stomach go 'whoa man, time to stop!'. Seeking for an economical set to satisfy your BBQ cravings? This is highly recommended for two.
Although they specialize in BBQ, barbecue is not all that they have, they also provide other set menus for soup and stew dishes, served with rice and side dishes. That aside, dishes for sharing such as Korean pancakes are available as well.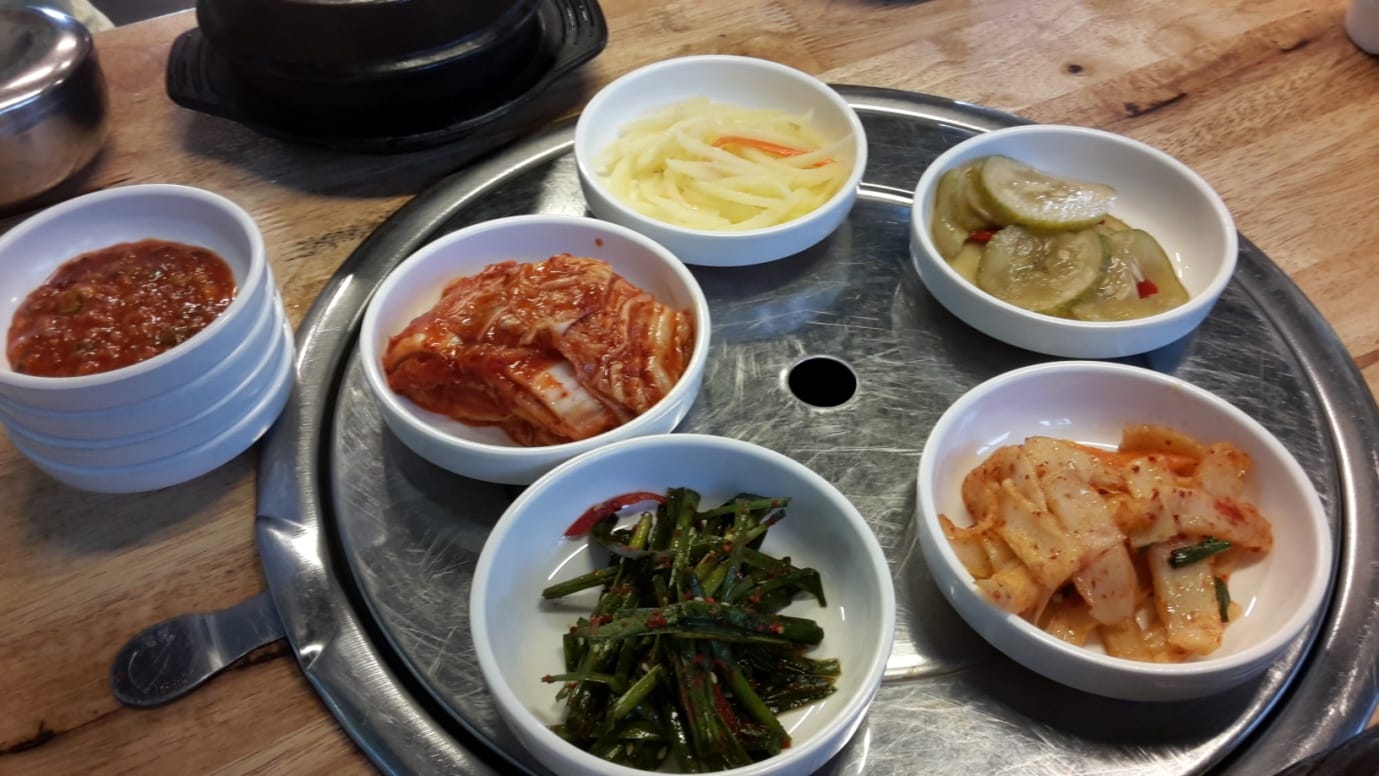 The side dishes mentioned earlier are refillable so it's another 'eat all you can'.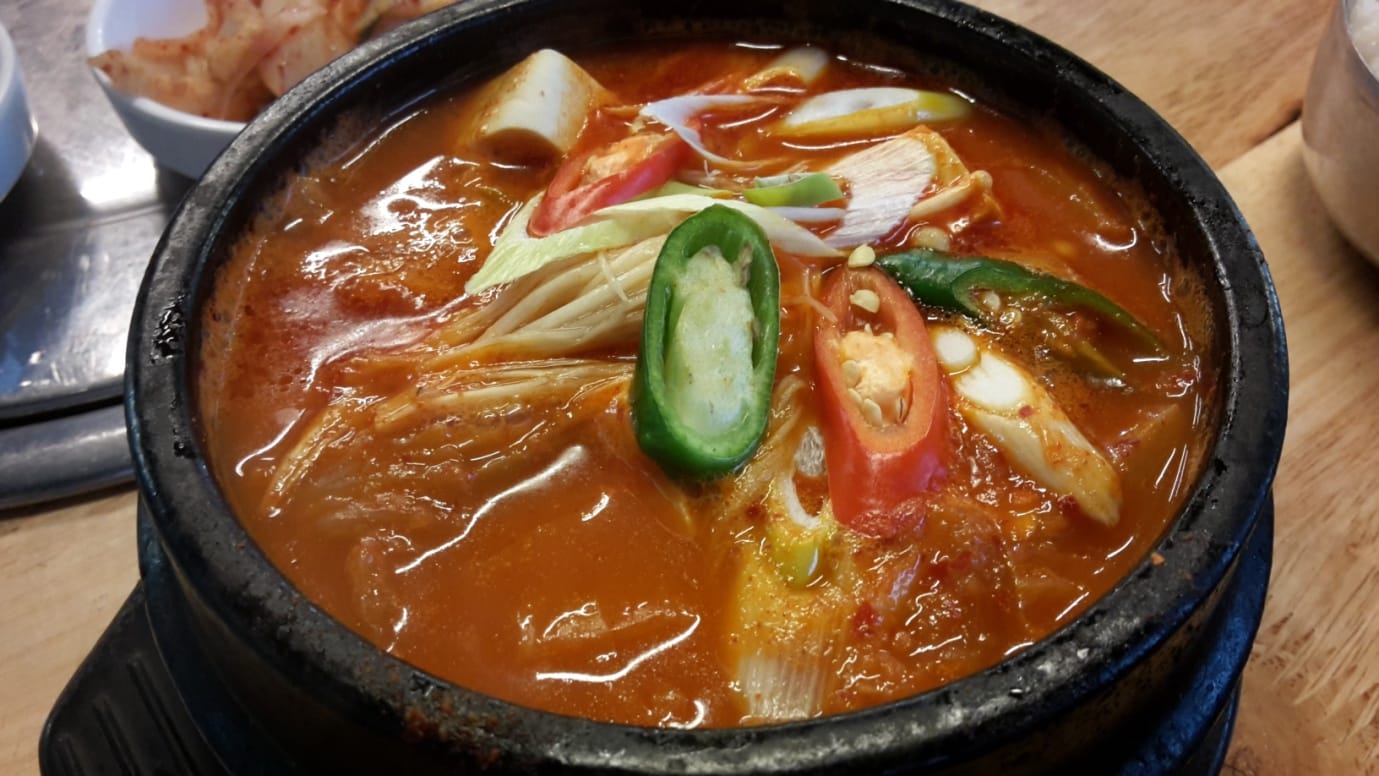 Kimchi Soup - red hot yummy soup to go with the rice and meat! It's yummier to drink while it's hot, but be careful not to burn your delicate tongue.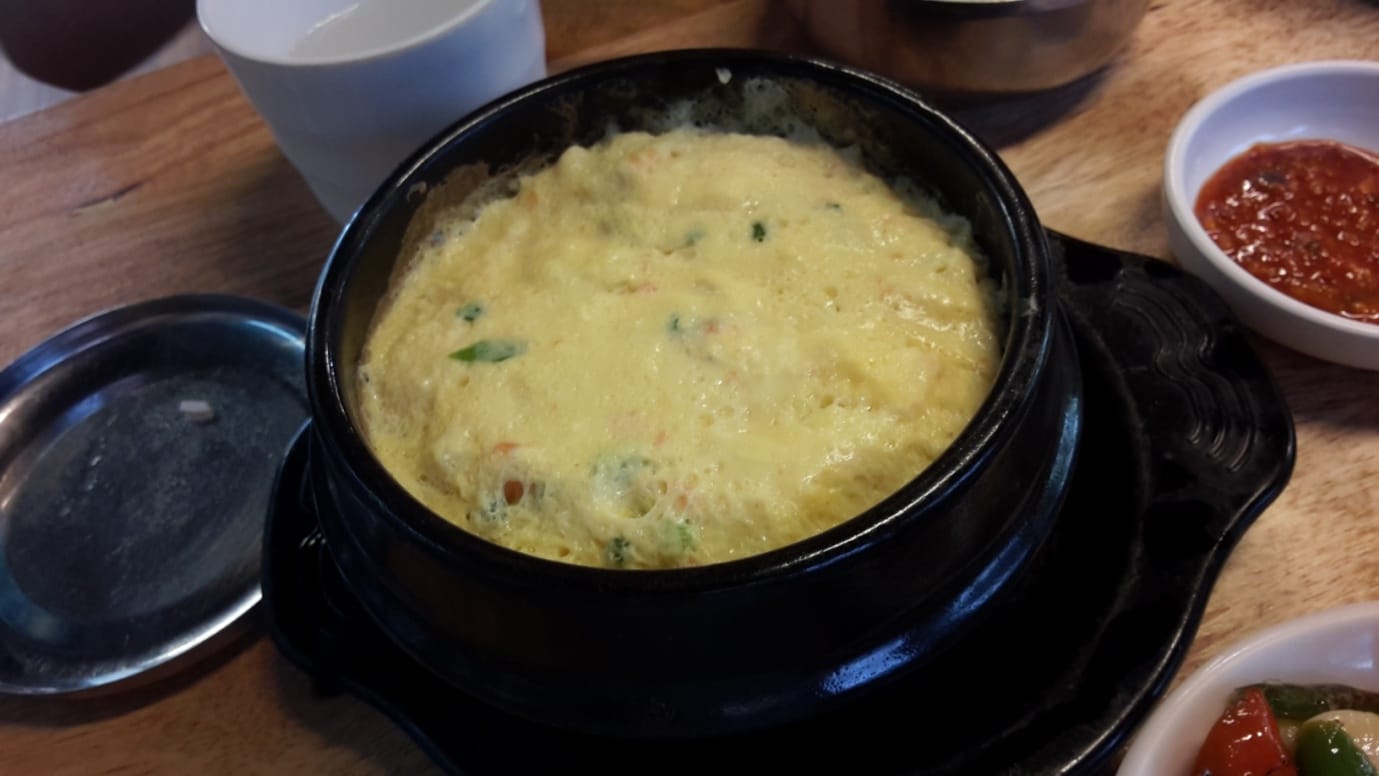 Steamed Egg – the same portion as the Kimchi Soup. There are some chives and carrots mixed together in the egg, its texture is smooth and a tad bouncy too.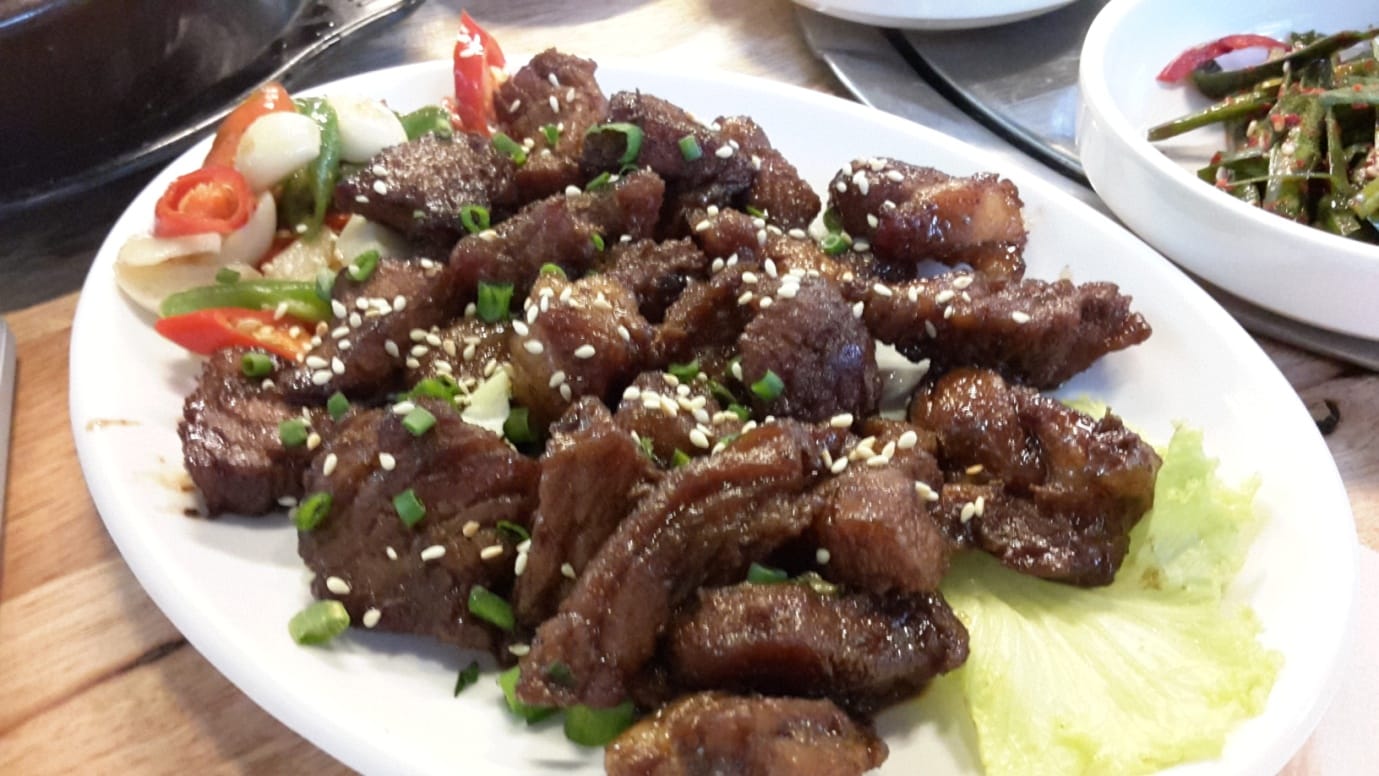 Grilled Pork dish – Sadly to say that you don't get to grill your own meat, but the chefs grilled the meat pretty finely, so no complaints (from me & friends).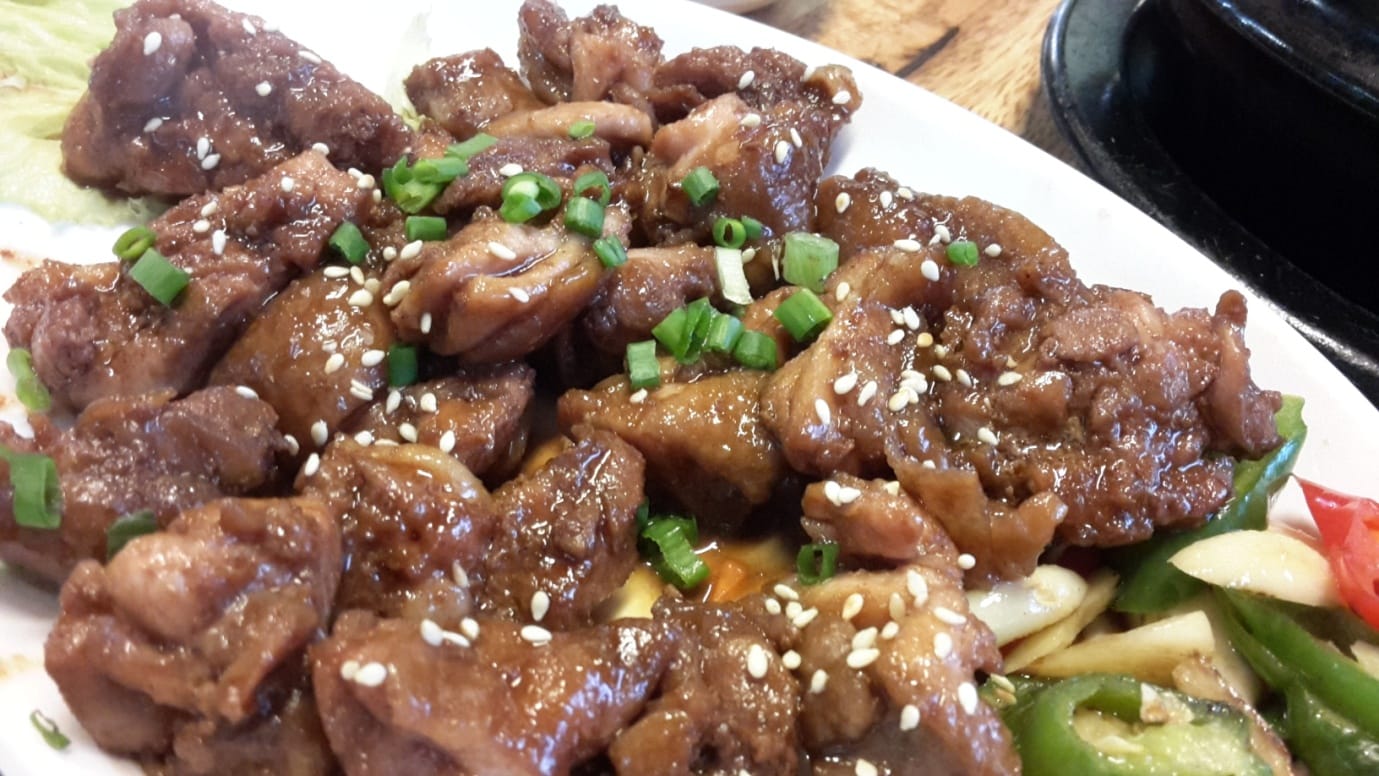 Grilled Chicken meat - both dishes are served together with chillies and garlic to spice things up!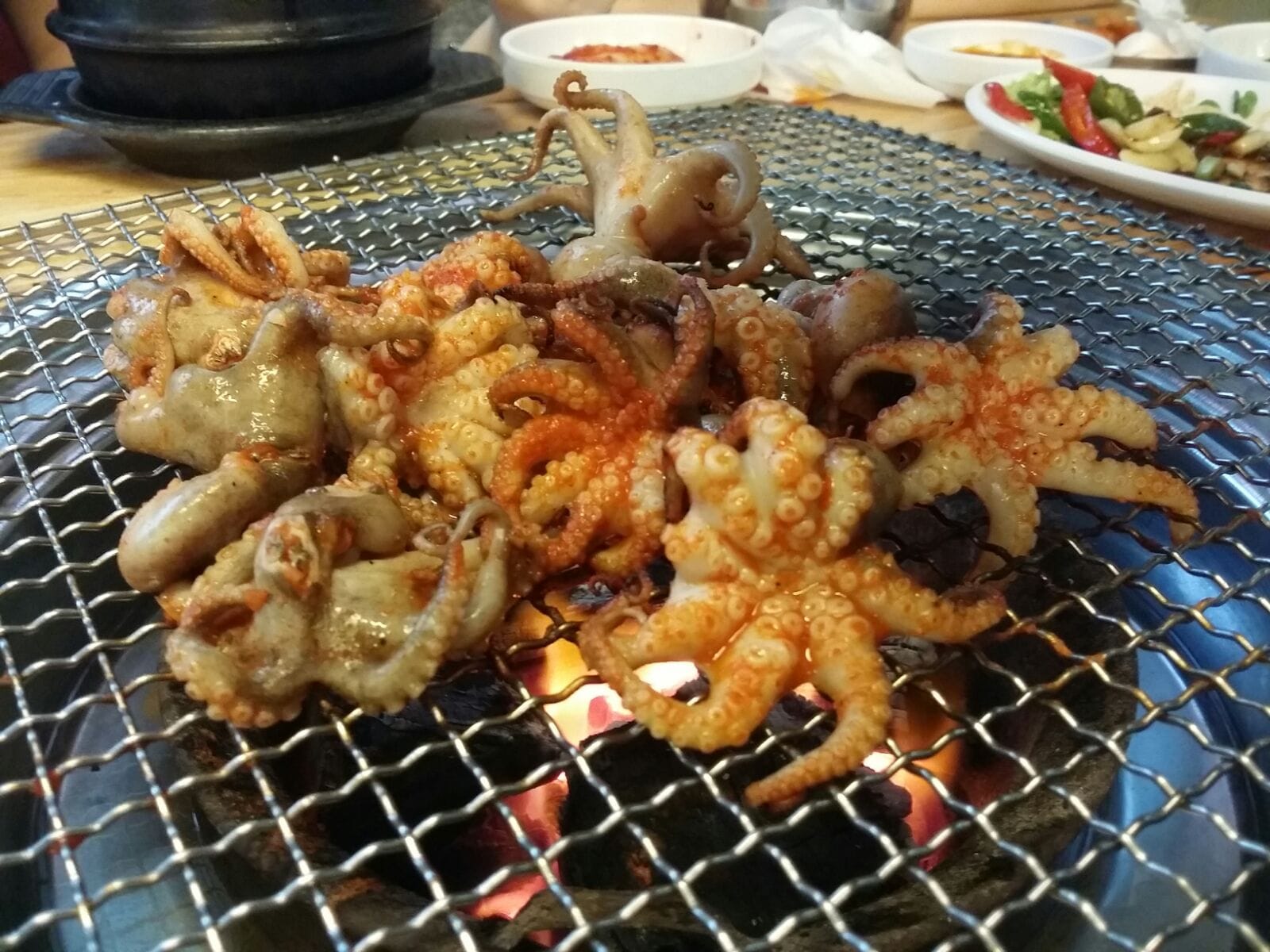 This is not included in the set itself, you will need to order this separately – Marinated Baby Octopus, recommended by the restaurant. Juicy and rather springy when you bite it, the BBQ sauce that was served for the grilled meat set goes perfectly well with it too.
Address: The Square, Jaya One, Jalan University, 46200 Petaling Jaya, Malaysia
Operation Hours: Mon – Sun: 11.30am – 11.30pm
Contact Number: 012-3499196
Price Range: $$ out of $ $ $ $ $
Having an exploration without first doing any research is pretty risky, so we did it for you to ensure that it's 100% yumminess in every restaurant before you do your own exploration. Stop exploring with your eyes, do it personally, mark down your calendars and get moving this weekend (or weekdays)!
There's no better way to bond with friends than over food, share this good-food post with friends and plan an outing together. Happy bonding!